TAG ANNOUNCES 228 CERTIFIED COMPANIES FOR 2023, INCLUDING RECORD NUMBER WITH "TAG PLATINUM" STATUS FOR ALL THREE SEALS
In early March, TAG announced the 228 companies that achieved TAG certifications for 2023 across TAG's Certified Against Fraud, Certified Against Malware, and Brand Safety Certified Programs. The impressive roster of TAG Certified companies earned a total of 317 seals, including a record two-thirds (67%) through independent validation, an increase from the 62% earned through independent validation in the prior year.
"Breadth and depth are the key elements of every successful standards program, and this year's certifications highlight both the breadth and the depth of TAG's seal programs, with the breadth of 228 certified companies across every sector of digital advertising and the depth from companies increasing their number of seals and achieving TAG Platinum status," said Todd Miller, VP Policy and Compliance at TAG. "We commend all of this year's certified companies for their leadership and commitment to protecting the digital advertising ecosystem, and we look forward to working with them to strengthen and enhance our collaboration."
Notably, the 2023 certifications included a record number of TAG companies that achieved "TAG Platinum" status by successfully obtaining all three of TAG's certification seals. In total, 23 companies reached TAG Platinum status in 2023, a 53% increase over the 15 companies that did so in the prior year.
TAG Platinum companies for 2023 included industry leaders like AdForm, Amazon Advertising, DirectTV, Google, Index Exchange, Initiative, IPONWEB, Kroger, Magna, Magnite, MediaBrands, MediaMath, MobileFuse, OpenX, Publicis Groupe, Sovrn, Spectrum Reach, SpotX, The Trade Desk, UM, Unruly, Xandr, and Yahoo!
"Fraud, piracy, brand safety, and transparency are tightly intertwined challenges, and a gap in protection in one area can quickly be exploited by criminals or cause brand damage in another," added TAG CEO Mike Zaneis. "Happily, the leading companies in digital advertising understand that the best way to address the connected threats of ad crime, brand safety threats, and lack of transparency is a solid shield of TAG seals. By implementing industry best practices across TAG's program areas, TAG Platinum companies demonstrate their commitment to a safe, transparent, and crime-free supply chain."



TAG'S FOURTH ANNUAL ASIA-PACIFIC FRAUD SNAPSHOT SHOWS SUSTAINED SUCCESS IN FIGHTING AD CRIME IN REGION
Earlier this month, TAG released its fourth annual analysis of fraud in Asia-Pacific markets, which showed sustained industry success in holding invalid traffic (IVT) under the industry target of 1% in TAG Certified Channels, where multiple entities involved in the transaction have achieved the TAG Certified Against Fraud Seal. Conducted by The 614 Group, the analysis found a 0.56% percent rate for invalid traffic in TAG Certified channels vs. a 66% higher rate of 0.93% in Non-Certified Channels (NCC).
"For Asia-Pacific advertisers and their supply chain partners, the ultimate goal is consistent, low, and predictable IVT," said Nick Stringer, TAG VP Global Engagement and Operations. "Happily, advertisers whose Asia-Pacific partners have adopted industry best practices in fighting fraud have been able to hold IVT in those certified channels under the 1% milestone for four years running, protecting both marketers' budgets and supply chain confidence."
The 614 Group study measured IVT rates in TAG Certified Channels by analyzing 183 billion ad impressions from January to December 2022 from three of the largest advertising agency holding companies across Australia, India, Indonesia, Japan, New Zealand, Singapore, Thailand, and Vietnam. The number of impressions measured increased 16% from the 158 billion measured in 2021.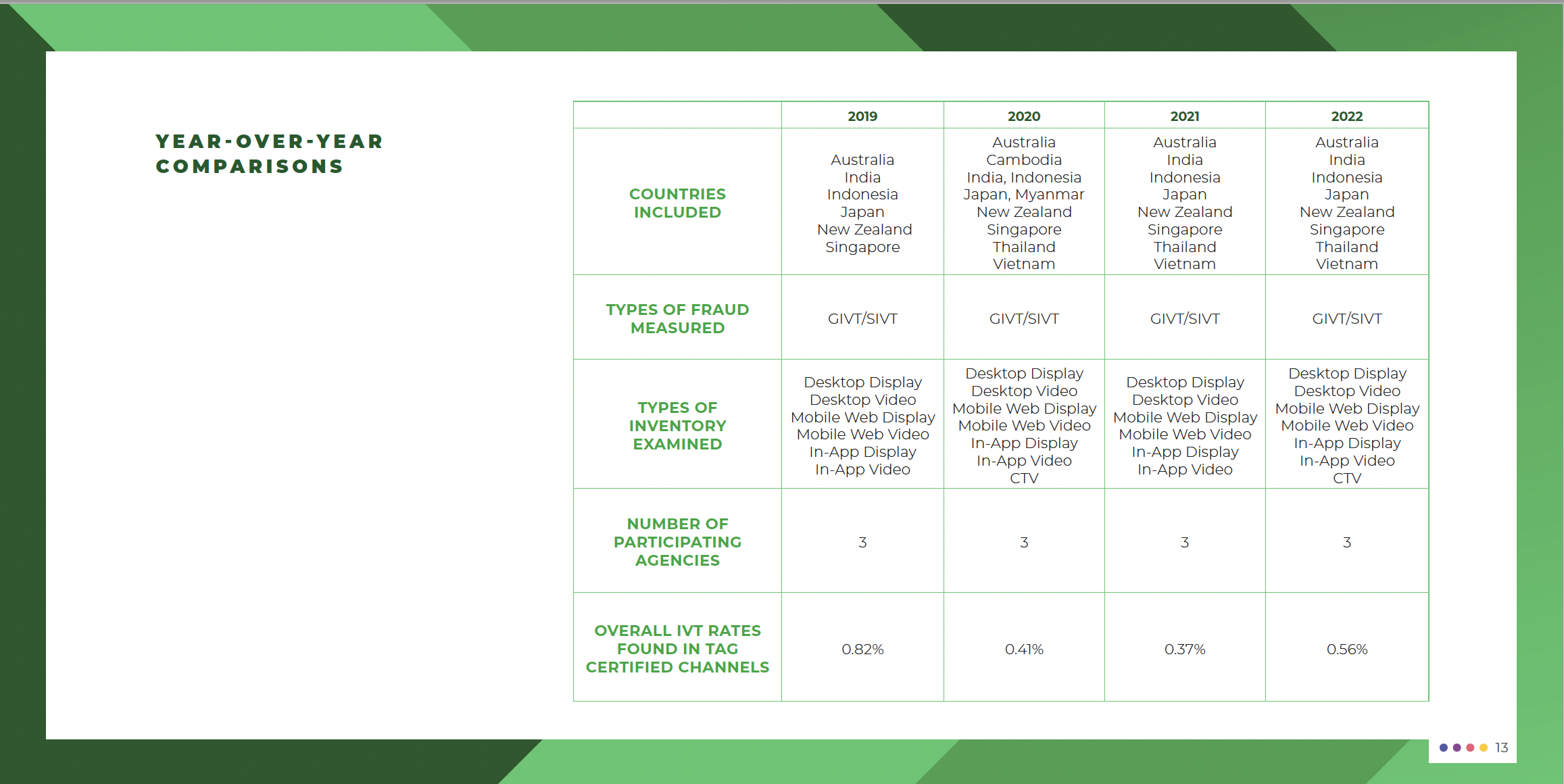 For the first time, TAG's Asia-Pacific Fraud Snapshot also included a special analysis of IVT in China, in partnership with a key TAG partner, the China Advertising Association (CAA). The CAA is a national non-profit industry organization voluntarily formed by advertisers, publishers, intermediaries, as well as local advertising industry organizations.
The analysis found that China had an overall IVT rate of 5.93%, which is approximately 50% lower than the estimated global average of 11.88%, based on published IVT rates from MRC-accredited vendors, including DoubleVerify, Human, Integral Ad Science and Pixalate. The China analysis included 1.66 trillion ad impressions provided by measurement vendors in China. (The impression data submitted reflects only the Chinese customers participating in these four companies' monitoring businesses and, therefore, not the entire market.)
Results of the 2023 TAG Asia-Pacific Fraud Snapshot were covered in an exclusive in Campaign Asia and Campaign China. The full results can be found here.
TAG's PROJECT BRAND INTEGRITY HELPS DRIVE 89% DROP IN MAJOR BRAND AD SPEND ON PIRATE SITES IN EUROPE
TAG's second annual report on its anti-piracy initiative, Project Brand Integrity (PBI), highlighted its continued success in reducing ad-supported piracy in Europe.
The report found that 86% of brands contacted by TAGPBI in 2022 reduced their ad impressions on pirate sites in Europe when alerted that their ads were running on such sites. As a result, the average monthly ad spending by major brands on high-risk and other sites that infringe on intellectual property (IP) fell by 89% in 2022.
"Criminals hide in the dark, which is why Project Brand Integrity shines a spotlight on ad-supported piracy by alerting advertisers when their ads run on IP-theft sites," said Jules Kendrick, MD, UK & Europe for TAG. "I'm happy to say that the vast majority of responsible advertisers took action last year when they found out their ads were supporting pirate sites. This demonstrates the effectiveness of PBI's work and the power of continual education and information to reduce criminal activity in digital advertising."
TAG launched PBI in February 2019 in partnership with UK-based anti-piracy and brand safety specialist White Bullet to help advertisers safeguard their brands by alerting advertisers when their ads are found to have run on high-risk and IP-infringing websites.
Through the PBI partnership, White Bullet monitors high-risk websites that infringe on IP in the European digital ad markets and provides information to TAG about display ads on those sites. TAG then notifies advertisers (or their agencies) privately and confidentially when a substantial number of their ads run on these sites and provides the advertiser with actionable information and tools to reduce its risk.
The PBI annual report also analyzed the state of ad-supported piracy in Europe over the past year. Key findings included:
Piracy domains continue to relocate – with 76% of websites monitored since 2019 having migrated or changed by redirecting to a different domain.

In-house digital advertising can find its way to pirate sites – as internal spending by advertisers sometimes lacks the anti-piracy tools and standards of agencies.

Affiliate marketing can also be a path to ad-supported piracy – as 14% of advertiser impressions on high-risk websites come through affiliate marketing.
TAG's second PBI Annual Report can be found at https://www.tagtoday.net/insights/pbi2023.
TAG IN THE NEWS
From "Second Annual TAG Brand Safety Report Finds Ad Spend on Pirate Sites Decreasing" in Mobile Marketing:
[The report] found that piracy domains continue to relocate, with 76 per cent of websites monitored since 2019 having migrated or changed by redirecting to a different domain. It also found that in-house digital advertising can find its way to pirate sites, as internal spending by advertisers sometimes lacks the anti-piracy tools and standards of agencies. Finally, it found that affiliate marketing can also be a path to ad-supported piracy, as 14 per cent of advertiser impressions on high-risk websites come through affiliate marketing.
"While we've made great strides in the fight against ad-supported piracy in Europe, we still have a long way to go," said Peter Szyszko, Founder and CEO of White Bullet. "PBI's identify-and-alert model has cut off the money flowing to criminals who profit from IP theft by enlisting the advertisers whose ads are appearing on those sites as allies. Now, we plan to expand that successful model to other regions of the world this year."
From "Revolving Door Roundup of Agency Moves" in Adweek's AgencySpy:
Kroger Precision Marketing was named an industry leader in online brand safety by the Trustworthy Accountability Group. This is the fourth year in a row that the agency was given this recognition.
One more thing...


💻🖥️
💻
- State of the Fight - ON DEMAND!
Did you miss this year's State of the Fight event in NYC? Or was there a really good soundbite from one of the sessions that you want to use? Click on the line below!
If you've lost the password or haven't received it, please email us at info@tagtoday.net.
Visit our Data and Insight page 👉 tagtoday.net/state-of-the-fight-2022
🧑🏻‍💻👨🏼‍💻👩🏽‍💻 - Leverage TAG Research into Your Everyday!
From APAC Fraud Snapshot reports, to UK Brand Safety Consumer reports, to Best Practices whitepapers, TAG's research is here to support our member's day-to-day compliance as well as strategic planning.
Visit our Data and Insight page 👉 tagtoday.net/insights
📣📣📣 - Let's Make Some Noise Together 🤝
We love it when TAG members highlight our work together to fight digital ad crime and improve transparency. Please send any TAG-related press releases, blogs, or other announcements to Andrew Weinstein at andrewwstn@gmail.com for review before release.
Topics: Blog