About Us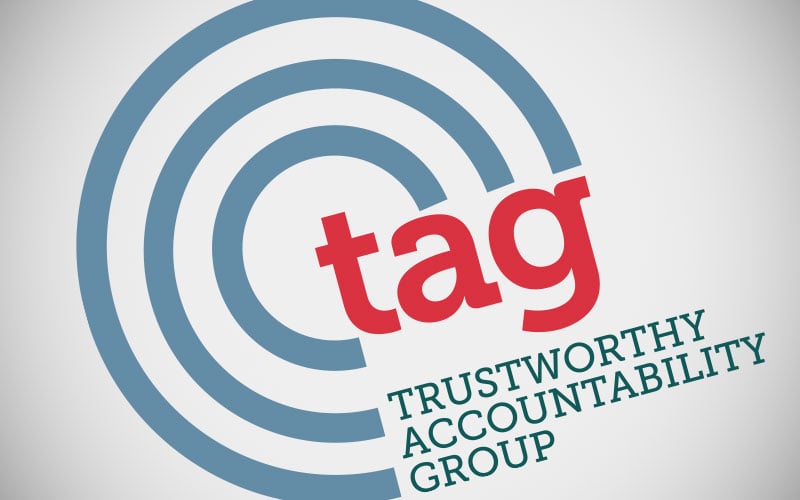 Trustworthy Accountability Group (TAG) is a first-of-its-kind cross-industry accountability program to create transparency in the business relationships and transactions that undergird the digital ad industry, while continuing to enable innovation. A joint marketing-media industry program, TAG was created with a focus on four core areas: eliminating fraudulent digital advertising traffic, combating malware, fighting ad-supported Internet piracy to promote brand integrity, and promoting brand safety through greater transparency. TAG was created by the American Association of Advertising Agencies (4A's), Association of National Advertisers (ANA), and Interactive Advertising Bureau (IAB) and works collaboratively with companies throughout the digital ad supply chain.
4 core areas of work are:
---
Board Of Directors
Roger Adams, Chief Marketing Officer, USAA
Mark Baynes, Chief Marketing Officer, Keurig Green Mountain
Debra Berman, Chief Marketing Officer, JCPenney
Krishan Bhatia, Executive Vice President, Business Operations and Strategy, NBCUniversal
Eduardo Conrado, Senior Vice President and Chief Innovation Officer, Motorola Solutions
Trevor Fellows, Global Head of Media Sales, Wall Street Journal
David Fischer, Vice President of Advertising and Global Operations, Facebook
Joan Gillman, COO, Time Warner Cable Media
Jack Haber, Vice President, Global Advertising and Digital, Colgate-Palmolive
Scott Hagedorn, CEO, Annalect (an Omnicom Media Group Company)
Nancy Hill, President and CEO, American Association of Advertising Agencies
Neil Johnston, Executive Vice President, Strategy and Digital Innovation, Cox Media Group
Bill Koenigsberg, President, CEO, and Founder, Horizon Media
John Kosner, Executive Vice President, Digital and Print Media, ESPN
Bob Liodice, President and CEO, Association of National Advertisers
Joe Marchese, President, Advanced Advertising Products, Fox
Rob Master, Vice President, Global Media, Categories and Partnerships, Unilever
Neal Mohan, Vice President, Display Advertising Products, Google
Rob Norman, Chief Digital Officer Global, GroupM
Marc Pritchard, Global Brand Building Officer, Procter & Gamble
Greg Raifman, President, Rubicon Project
Randall Rothenberg, President and CEO, Interactive Advertising Bureau
Michael Rubenstein, President, AppNexus
Tod Sacerdoti, CEO and Founder, Brightroll (a division of Yahoo)
Vivek Shah, CEO, Ziff Davis
Rishad Tobaccowala, Chief Strategist, Publicis Groupe
Deborah Wahl, Chief Marketing Officer, McDonald's USA
Mitchell Weinstein, SVP, Director of Ad Operations, IPG Mediabrands
---
Leadership Council
The TAG Leadership Council is, in effect, the operational decision-making body for the organization, as it determines and oversees development for the products and initiatives that will best advance TAG's mission and fulfill the Board's high-level direction.
Charter Communications
Dentsu Aegis Network
Disney
Dr. Pepper Snapple Group
EMX Digital
Facebook
Google
GroupM
Index Exchange
JPMorgan Chase
NBCUniversal
Omnicom
OpenX
Publicis Groupe
The Trade Desk
VertaMedia
Warner Bros.
---
Staff
Michael S. Zaneis was appointed President and CEO of the Trustworthy Accountability Group (TAG) in July 2015, leading TAG's efforts to eradicate digital advertising fraud, malware, ad-supported piracy, and to increase transparency across the digital advertising supply chain. In its first year, the organization successfully launched programs to combat criminal activities in each of these areas and has garnered widespread support throughout the industry.
Prior to taking the helm at TAG, Mike served as the Executive Vice President and General Counsel for the Interactive Advertising Bureau (IAB). He created the organization's first Public Policy Office, headquartered in Washington, D.C. During his tenure, the IAB tripled its revenue and membership, and under his guidance, the Public Policy Office grew to become the leading voice for the digital advertising industry on legislative, regulatory, and legal issues. He often represented the industry before the United States Congress, federal regulatory agencies, international legislative bodies, and at public conferences. As General Counsel for the IAB, Mike oversaw internal legal operations of the organization and provided leadership on key judicial proceedings impacting the interactive advertising industry.
Prior to joining IAB, Mike served as Executive Director of Technology and E-Commerce at the U.S. Chamber of Commerce, the world's largest trade association. As the chief technology and telecommunications lobbyist, he oversaw issues affecting the business community pertaining to online and consumer privacy, data security, telecommunications, intellectual property, counterfeiting, piracy, and e-commerce. He received his bachelor's degree from Michigan State University and both his Juris Doctor and Masters in Public Policy from Georgetown University. Mike has served as an adjunct professor for Georgetown's McCourt School of Public Policy.
Rachel Nyswander Thomas is Senior Vice President of Operations and Public Policy at the Trustworthy Accountability Group (TAG). Rachel has spent her career studying, creating and implementing digital policy in the academic, private industry, and non-profit sectors. Prior to joining TAG, Thomas served as Vice President of Advocacy & Accountability at the Direct Marketing Association (DMA), advocating DMA's data policy agenda before Congress and federal agencies on behalf of thousands of business and nonprofit organizations. She served concurrently as Executive Director of DMA's Data-Driven Marketing Institute (DDMI), facilitating academic teams in conducting independent research exploring how the responsible use of consumer data shapes industry, society, and the economy.
Previously, Rachel led The McGraw-Hill Companies' regulatory compliance efforts relating to customer privacy, auditing worldwide operations, training more than 2,000 employees annually and providing compliance consultation to a global corps of 80 Privacy Officials in more than 40 countries.
Rachel earned a Bachelor of Arts in the Humanities from Yale University and a Masters of Policy Management from Georgetown University's McCourt School of Public Policy. She has held the Certified International Privacy Professional (CIPP) distinction from the International Association of Privacy Professionals (IAPP) since 2008. Her scholarship on cybersecurity public-private partnerships has been published by the Center for Strategic and International Studies and Thomson Reuters Press.
Juliette Riviere is Senior Director, Compliance Programs at the Trustworthy Accountability Group (TAG). She is an attorney and brand strategist specializing in the development and protection of brand portfolios. Juliette has a strong background in digital marketing, as well as intellectual property and privacy law. Her recent consulting engagements included work for PepsiCo and RR Donnelley. Through her work for Publicis Modem, she interacted with General Mills, Citibank, Procter & Gamble, and Nesquik, by conducting research to increase customer engagement and expand markets. She has worked for several years in the intellectual property and anti-piracy fields for Chanel and Louis Vuitton, and was an associate with Jones Day. She has a Masters degree from Université Paris I Panthéon-Sorbonne and a juris doctorate from Columbia University. She holds dual citizenship in the United States and France.
Jamie O'Donnell, Senior Manager, Operations & Membership
---
Organization