Each year, TAG recognizes a small group of industry leaders who have made exceptional contributions to TAG and the industry's efforts to advance brand safety with our organization's highest honor: TAG Trust Champions.
Below is a list of the past recipients.
2022 Recipients
2021 Recipients
2020 Recipients
2019 Recipients
2018 Recipients
2017 Recipients

2022
Trust Champions

Abe Farraj, Senior Director Brand Safety, NBCUniversal
Abe was a founding father of TAG's Brand Safety Certification (BSC) program, serving as chair of the Brand Safety Working Group and playing a key role in our efforts to expand Project Brand Integrity to other markets and mobile apps. Thanks in large part to his engagement and leadership, BSC has become the most visible and influential certification program of its kind in the world, and we are deeply grateful for his commitment to this important issue.

Lindsey Superczynski-Matthies, Former Sales Operations & Strategy Lead, Exchange Quality, Yahoo!
A year ago, all of the members of the TAG Threat Exchange (TX) were recognized as TAG Trust Champions for their efforts in sharing real-time intelligence and partnering to shut down malvertising attacks. This year, TAG is pleased to honor an important TX participant whose work over the last year has helped elevate the efforts of that group and better protect our industry from criminal activity.
Over the last year, Lindsay has been a leader in helping to build out the Threat Exchange, so it can better identify, analyze, and share emerging threats across the industry. She was also a key contributor to the TAG Malvertising Taxonomy, which fosters transparency and collaboration by providing accurate and consistent terminology to describe malvertising, and she was a key participant in TAG's first Red Team exercise.
Career Champions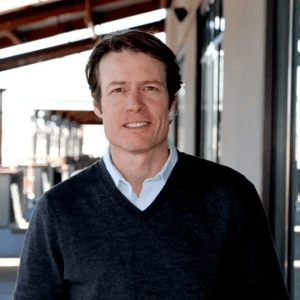 Walter Knapp, CEO, Sovrn
Successful self-regulatory programs rest on the bedrock support of key companies in the industry. Walter was one of the first leaders in digital advertising to publicly call for the industry to take on the multi-billion dollar ad fraud problem, and his call-to-action helped lead to the creation of TAG and its Certified Against Fraud program.
Walter did more than talk the talk; he made sure sovrn walked the walk. Under his leadership, sovrn was one of the first companies to achieve the TAG Certified Against Fraud seal, and it extended its engagement across all of TAG's other seal programs, becoming one of the inaugural companies to achieve TAG Platinum Status by obtaining all four of TAG's program certifications
David Green, Former VP Public Policy, NBCUniversal
In the organization's earliest days, David was a driving force in helping TAG design and launch its first program, the TAG Certified Against Piracy Seal (now part of the Brand Safety Certified program), and he was a long-time Co-Chair of the Anti-Piracy Working Group. David was also one of TAG's most vocal and effective industry evangelists, tirelessly promoting its work and recruiting companies to join TAG's seal programs.
David also served as an important liaison in TAG's efforts to build relationships with federal law enforcement officials at the U.S. Department of Justice, Department of Homeland Security, and Federal Bureau of Investigation.
2021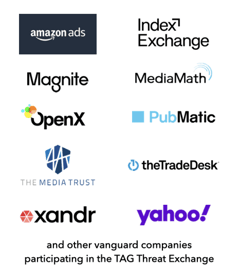 This year, we are honored and delighted to recognize more than a dozen of the largest ad tech and anti-malvertising companies in the industry who spent 2021 sharing real-time intelligence and partnering to shut down malvertising attacks on a daily basis within the TAG Threat Exchange (TX), resulting in shorter and less impactful attacks across the digital ad supply chain.

This year's honorees include Amazon Ads, Index Exchange, Magnite, MediaMath, OpenX, PubMatic, The Media Trust, The Trade Desk, Xandr, and Yahoo!, as well as other vanguard companies participating in the TAG Threat Exchange.
2021 marked the second full year of successful operations within the TAG TX, which holds the Department of Homeland Security (DHS) designation as the Information Sharing and Analysis Organization (ISAO) for the digital ad industry.
2020
Vinod Panicker & Christian Martine of Amazon Advertising

This year, we are delighted to recognize two thought leaders from Amazon Advertising- Vinod Panicker, Principal Product Manager, Supply Quality, and Christian Martine, Senior Program Manager, Supply Quality Certifications. Christian and Vinod have taken leading roles in driving TAG's Automated Channel Election (ACE) initiative, which will increase inventory transparency and quality by making the purchase of TAG Certified inventory as easy as checking a box on Demand Side Platforms (DSPs) and trade desks. They have also been leaders in the TAG Certified Against Fraud and Brand Safety Certified Programs.
2019
Lou Paskalis & Terri Schriver of Bank of America

Lou Paskalis serves as Senior Vice President of Customer Engagement and Media Investment, and Terri Schriver is Senior Vice President of Enterprise Media at Bank of America. Lou and Terri have been longtime leaders and public advocates in building a stronger, safer, and more transparent digital advertising supply chain. Under Lou and Terri's leadership, Bank of America has turned talk into action, creating a new position of Brand Safety Officer as part of an internal team dedicated to issues of brand safety, ad fraud, and transparency. By driving both internal improvements and industry adoption of best practices, Lou and Terri have raised the bar across TAG's program areas.
"We are beyond thrilled to be recognized by TAG for our ongoing efforts to make the digital ecosystem a safe place where marketers like Bank of America can connect with customers," said Paskalis. "We know that our clients want the power to achieve the things that are important to them in their daily lives, their communities and their businesses, and digital channels allow us to understand their needs and present solutions at great scale. TAG is doing such great work leading our industry's efforts overall in this area and this recognition means so much to us all, particularly our brand safety team led by Terri Schriver."
Alexander Groysman & Lori Hopkins of Charter Communications

Alexander Groymsan is Senior Director, Advanced Advertising, Product Development, and Lori Hopkins is Director of Product Development at Spectrum Reach, the advertising sales and production services team offered by Charter Communications. As active participants on TAG's Leadership Council, Alex and Lori have helped steer and strengthen TAG's programs, providing expertise and strategic guidance on how TAG can better serve the industry. Alex and Lori's leadership on TAG initiatives has been mirrored by their operational excellence within Charter, which has been a model for rigor and compliance with TAG's program standards. For their leadership within TAG and within their own organization, Alex and Lori have set a new standard for positive cross-industry engagement.
"We are honored for Charter to be recognized as a TAG Trust Champion for our efforts in improving transparency and trust across the digital media supply chain," said Groysman. "We look forward to our ongoing partnership with TAG in raising the bar for our industry."
---
2018
Louisa Wong, David Murnick, & Olga O'Donnell of Dentsu

The collective leadership of the Dentsu team on the TAG Leadership Council has been a powerful driver of TAG's success over the last year, while the team's strategic guidance about how Team TAG can better serve the entire TAG Community has helped to elevate TAG's work to new heights.
Dallas Lawrence, Christopher Hallenbeck, & John Murphy of OpenX

OpenX has always had a commitment to increasing trust and transparency throughout the digital advertising supply chain, but in 2018 they doubled down on these efforts across a range of TAG programs. Christopher Hallenbeck oversaw a complete revision of the TAG Inventory Guidelines Program as Chair of the Inventory Quality Working Group, while Dallas Lawrence and John Murphy organized a major effort to increase transparency in the programmatic marketplace. The Principles for a Better Programmatic Marketplace introduced new disclosure requirements across all of TAG's certifications, which will engender trust and confidence for marketers around programmatic buying.
---
2017
Marc Pritchard, Chief Brand Officer, Proctor & Gamble

If 2017 was a race to raise standards and fight fraud, Marc fired the starter's pistol with a seminal address to the IAB Annual Leadership Meeting in January. In that speech, Marc outlined a new set of standards for P&G's partners, including a requirement that all of its digital advertising partners and vendors become TAG Certified Against Fraud, a widely-covered move that validated and accelerated the industry's shift toward TAG adoption. Thanks in part to Marc's leadership in demanding accountability and high standards - both at P&G and through his work as a TAG board member - our industry has made measurable progress in addressing some of its most intractable problems.
Scott Spencer, Director of Product Management, Google

Scott has been the chair of TAG's anti-fraud working group as long as TAG has had an anti-fraud working group, and his leadership has helped us build the TAG Certified Against Fraud Program and ensure its broad industry adoption. While serving as a member of TAG's Leadership Council, Scott has been involved at every stage of TAG's anti-fraud efforts, from helping to design the program guidelines to contributing the kernel for TAG's Data Center IP List and working with TAG to expand program participation. While serving as an ambassador and advocate for TAG, Scott has become one of the organization's top strategic advisors in helping chart our future.
Steve Sullivan, VP Compliance and Operations, Index Exchange
Steve's tireless work leading the Business Transparency Committee has helped TAG create an industry-wide payment ID system, improve transparency throughout the marketplace, and develop an impressive research portfolio. Barely two years after launch, TAG's Payment ID system has established itself as one of the industry's most valuable tools for marketers to track their spending throughout the ad supply chain and ensure their money does not support fraud and criminal activity. As a member of TAG's Leadership Council, Steve has been a thought leader on every issue under TAG's purview, and his support has been critical in helping TAG grow and succeed.
---
2016
John Montgomery of GroupM

John Montgomery serves as GroupM's EVP of Global Brand Safety. In addition to his service as co-chair of the TAG Anti-Piracy Working Group, John also has been a pioneer across the entire spectrum of TAG's work, having led the efforts to tackle the same supply chain challenges at GroupM, the world's largest media investment group. Under John's leadership, GroupM was the first major advertising agency to publicly commit not only to participate in TAG's programs itself but also to require all of its digital partners to use TAG-certified anti-piracy services. John has also been one of our most vocal advocates in urging his peers to take part in TAG programs through speeches, op-eds, and interviews.

"I'm extraordinarily honored by this recognition from the Trustworthy Accountability Group," said Montgomery. "I share it with many colleagues at GroupM and across the industry who have worked so hard to increase the quality of the digital supply chain and ensure its safety for brands. We've seen tremendous progress, much of it enabled by the formation of TAG and the subsequent endorsement of TAG anti-piracy guidelines by advertisers, agencies and vendors. We must remain ever vigilant given the complexity of the digital ecosystem, and we are stronger together through TAG."
David Green of NBCUniversal

David Green serves as NBCUniversal's VP of Public Policy. David is co-chair of the TAG Anti-Piracy Working Group, and he was one of the driving forces in helping TAG design and launch that program – its first – two years ago this week. Since then, David has rallied the industry to support TAG's work by recruiting companies to join our efforts, promoting our seal programs, and identifying new signatories for the TAG anti-piracy pledge. David has also served as an important liaison as TAG has worked to build relationships with federal law enforcement officials at the U.S. Department of Justice, Department of Homeland Security, and Federal Bureau of Investigation.

In response to the recognition, David said, "I am honored to be part of this industry-wide effort to tackle endemic problems like fraud, malware, and – what has been my particular focus – reputable brands inadvertently placing ads on infringing sites. In just two years, TAG has secured broad engagement on all these issues from key stakeholders across the digital advertising ecosystem, and we are working together to assess the scope of the problems and identify best practices to address them. NBCUniversal will continue to be a leader in this vital collaboration, so we can strengthen the foundation of digital advertising for continued growth and success for everyone in the legitimate marketplace."