December 1, 2022
TAG Today - November 2022
TOP STORIES: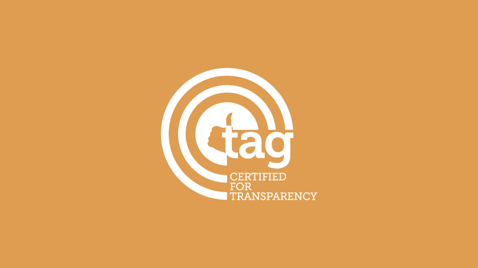 TAG Launches Ad Industry's First and Only "Certified for Transparency" Seal
In a milestone for visibility and accountability in digital advertising, TAG announced the launch of the TAG "Certified for Transparency" Seal, a new global standard for responsible transparency practices that will give ad buyers and their partners more confidence, clarity, and control around the details of their digital advertising campaigns.
By offering a common transparency framework, TAG's "Certified for Transparency" Program will establish a "shared truth" on campaign data for participants across the supply chain, increasing confidence and control for buyers and raising the value of inventory for sellers who can prove they are responsible, accountable, and transparent.
A central requirement for seal recipients is participation in a transparency utility such as TAG TrustNet's Distributed Ledger Technology (DLT) framework, which creates a single trusted record for transactions through real-time reconciling and sharing advertising log files with counterparties.
Developed in collaboration with TAG's technology partner, Fiducia, TAG TrustNet has undergone years of testing and early deployment with scores of companies from across the supply chain, including brands such as Nestlé, McDonalds, O2/Telefonica, Unilever, Johnson & Johnson, and Santander; agency trading groups like WPP, Publicis, OMG, Havas, IPG, and Dentsu Aegis; and a broad number of technology vendors and publishers.
"This program will serve as a global transparency utility that will revolutionize the way digital media is bought and sold," said TAG CEO Mike Zaneis. "By establishing a 'shared truth' among all parties for campaign reporting, companies across the supply chain who touch an ad will be able to seamlessly integrate, access, review, and act on the same trusted campaign data. Sellers will benefit from the increased value of transparent and trusted inventory, while buyers will be able to make better-informed decisions on how best to allocate resources in their campaigns."
"Transparency and trust have forever been the backbones of sustainable business, and in the last years of programmatic advertising, the growing complexity of its ecosystem has made it harder to provide a clear picture," said Ander Lopez Ochoa, EMEA Head of Digital, Content, Media & eCommerce Marketing for Johnson & Johnson. "Lots of attention has been put into inventory quality issues along with oddities in tech transaction fees, but not nearly enough attention on finding automated and trusted partners that would provide answers. If a supply chain actor is transparent, then they will be happy to provide quick and easy shared access to the advertiser's log data as the only true way of certifying transparency promises. It's the difference between believing and knowing."
In addition to employing a transparency utility, other requirements to obtain the TAG Certified for Transparency Seal include the implementation and honoring of other industry protocols that increase transparency across the digital ad supply chain, as well as annual compliance training for the Certified for Transparency Seal.. Additional transparency requirements will be integrated into the program through feedback and reaction from the TAG Community through TAG's policy working groups over the coming months. Final guidelines will take effect in May 2023 and will serve as the requirements for obtaining a 2023 seal.
"The TAG Certified for Transparency Program will offer a global cross-industry seal of recognition that recipients can operationally support transparency," said Adrian Lacey, Director of Policy and Standards at TAG. "By providing brands and the industry with a potential utility to support always on campaign data sharing across the supply chain, the TAG Certified for Transparency Seal will help us to work together to eliminate any dark areas where bad actors hide. We look forward to building this initiative into a new baseline for responsible advertising worldwide."
Coverage of the announcement included the Wall Street Journal's CMO Today, MediaPost, AdExchanger, Campaign US, Digiday, Mobile Marketing, MarTechSeries, MarTech360, and mind Media (France).
---
2022 TAG US Fraud Benchmark Study Finds IVT Held Below 1% in TAG Certified Channels for Second Consecutive Year
The 2022 TAG US Fraud Benchmark Study showed a solidification of industry gains in the fight against ad fraud through TAG Certified Channels (TCC), as invalid traffic (IVT), a key measure of such fraud, was held below the milestone 1% rate for a second consecutive year in those channels.
The study found an IVT rate of just 0.98% in US TCCs, channels in which multiple entities involved in the transaction – such as the media agency, buy-side platform, sell-side platform, and/or publisher – have achieved the TAG Certified Against Fraud Seal.
"The fight against ad fraud has been one of the most notable accomplishments of the digital advertising industry over the last decade," said TAG CEO Mike Zaneis. "Thanks to the broad adoption of powerful anti-fraud standards across the industry, ad fraud in TAG Certified Channels has been reduced to a level at which it is predictable, consistent, and low. Our success to date has reduced crime, saved money, and built trust across the supply chain, but it requires continued vigilance and adaptability to address new threats and maintain these low rates over time."
The 2022 benchmark study was conducted by The 614 Group, which also conducted interviews with senior executives at media holding companies, publishers, platform providers, and measurement vendors to supplement the data with information on context and best practices. Among the findings of those interviews was a desire from agencies for even more TAG Certified inventory, despite its strong growth in recent years, and the need to invest more in suppliers who achieve TAG Certification.
For the first time, this year's study also conducted a spend analysis of digital video advertising, based on data contributed by SMI. That data highlighted several new findings, including an impressive $3.8 billion spent through TAG Certified Channels in digital video and an additional $1.4 billion spent on TAG Non-Certified Channels in which one participant was TAG Certified. In total, more than $5 billion was spent through video channels in which at least one participant was TAG Certified.
The full study and report can be found here.
---
TAG on the Dais: Brand Safety Summit at Brand Safety Week, New York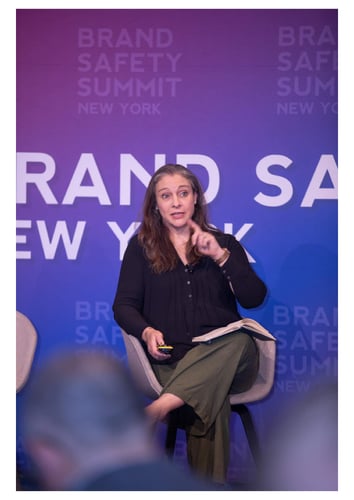 TAG CEO Mike Zaneis and COO Rachel Nyswander Thomas joined brand safety experts and industry leaders from around
the world at The 614 Group's Brand Safety Summit during the second annual Brand Safety Week in New York City in early November. During a keynote presentation, Mike and Rachel shared the findings of the 2022 TAG US Fraud Benchmark Study, the 2022 TAG/BSI Consumer Brand Safety Survey and discussed TAG's new Certified for Transparency Seal Program.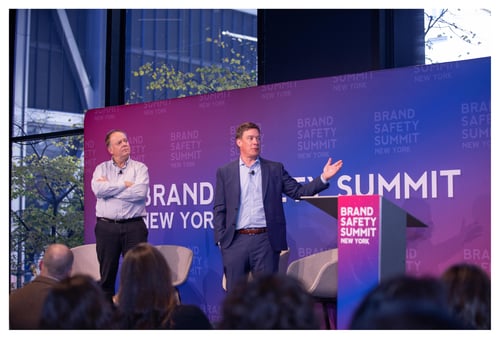 ---
TAG in the News
From the Wall Street Journal's daily CMO Today newsletter:
The ad industry's Trustworthy Accountability Group introduced a system for online advertisers to see how much money ad-tech intermediaries collected from their campaigns and where their ads wound up.
From "Controversial News Topics Are Safe for Ads, Consumers Say" in MediaPost's Research Intelligencer [paywall]: U.S. consumers broadly say all quality news content is appropriate for advertising amid the concerns of marketers about brand safety. Only one in four respondents said any specific news topic should be off-limits to ads, while nearly half (46%) said all high-quality journalism should be appropriate for ads.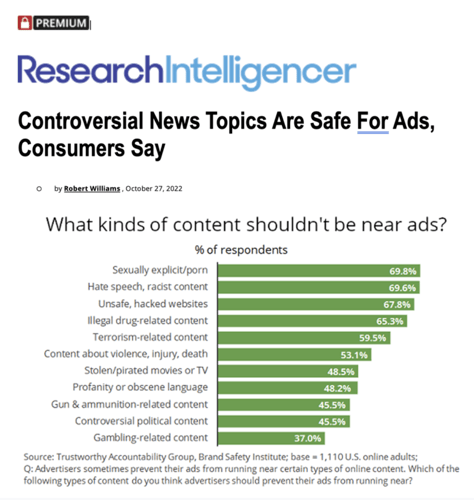 ---
TAG Team Member Spotlight: Thao Tran
1) What is your role at TAG?
I am the Cyber Threat Intelligence Analyst responsible for developing actionable intelligence on emerging cyber threats to the digital ad industry, TAG members, and their digital supply chain. My role requires me to think like the adversaries we are seeing and gather information on their tactics, techniques, and procedures (TTPs) from various sources. I also help the TAG Threat Exchange members leverage intelligence to proactively identify and mitigate malicious activity.
2) What stands out to you about the work you do (or hope to do) at TAG?
I came into this role knowing nothing about the digital ad industry and the kind of fraud they were up against. I came from a background in research for frauds in financial institutions so all I knew about were different financial frauds with banks, checks, and credit cards that most people think of when they hear the term fraud. Discovering ad fraud and malvertising absolutely blew my mind because I just never imagined that cybercriminals could make so much money from it. So when I joined TAG, what stood out to me was how passionate everyone was about fighting against these threats and promoting brand safety, fraud, and threat sharing, and it's a fight that I am truly honored to be a part of.
3) What fun fact about you would surprise your TAG friends and colleagues?
One thing about me is that I really enjoy heights, mostly because of the thrill I get from being so high up. One of my personal goals is to obtain my private pilot license just because of how much I love being in the air!
One more thing...


💻🖥️
💻
- State of the Fight - ON DEMAND!
Did you miss this year's State of the Fight event in NYC? Or was there a really good soundbite from one of the sessions that you want to use? Click on the line below!
If you've lost the password or haven't received it, please email us at info@tagtoday.net.
Visit our Data and Insight page 👉 tagtoday.net/state-of-the-fight-2022
🧑🏻‍💻👨🏼‍💻👩🏽‍💻 - Leverage TAG Research into Your Everyday!
From APAC Fraud Snapshot reports, to UK Brand Safety Consumer reports, to Best Practices whitepapers, TAG's research is here to support our member's day-to-day compliance as well as strategic planning.
Visit our Data and Insight page 👉 tagtoday.net/insights
📣📣📣 - Let's Make Some Noise Together 🤝
We love it when TAG members highlight our work together to fight digital ad crime and improve transparency. Please send any TAG-related press releases, blogs, or other announcements to Andrew Weinstein at andrewwstn@gmail.com for review before release.
Topics: Blog