TAG TrustNet
TAG TrustNet applies distributed ledger technology (DLT) to real-world challenges faced by the TAG Community – and the digital advertising industry as a whole.

Powered by technology partner Fiducia, TAG TrustNet builds trust and transparency across the supply chain by establishing a common "truth" on metrics that will improve the efficiency of reporting for all stakeholders. Our first focus is on two key industry challenges:

the verification of TAG certification status for inventory, and

strengthening the industry's fight against ad fraud and other brand safety concerns.


The launch of TAG TrustNet follows the success of a twelve-month cross-industry pilot program that included brands such as Nestlé, McDonalds, Virgin, O2/Telefonica, Unilever, Johnson & Johnson, Santanter; larger agency trading groups such as WPP, Publicis, OMG, Havas, IPG, Dentsu Aegis; and a number of technology vendors and publishers.

Increasing Trust and Transparency in Digital Advertising

Increasing trust and transparency in the digital ad supply chain are core to TAG's mission, and TAG TrustNet provides those and many other benefits to participating companies.

A Single Source of Truth

The 2020 cross-industry pilot showed that distributed ledger technology (DLT) is particularly well suited to help TAG TrustNet solve key fraud and brand safety problems facing the industry today.


At the heart of TAG TrustNet is a distributed ledger. You can think of a distributed ledger as a type of database that multiple organizations use to share data between each other and create an authoritative record. Rather than simply having to trust one another to be truthful, reliable and secure in in their record-keeping, there is a single source of truth for impression delivery for the whole industry.

Live Compliance = Smarter, Safer Ad Buys

TAG TrustNet's "live compliance" provides consistent, always-on data about ad delivery. Through a combination of its interface and real-time alerts based on impression-level delivery data, brands lessen their initial exposure to risk, raising and mitigating compliance problems as soon as they arise.

The network's high bar for good practice and reporting – and the high level of accountability it promotes – also ensure a high level of trust between parties. Not only does this squeeze out the potential for fraud, but it creates a positive incentive to work only with such trusted business partners in future - allowing them to increase their revenues and further drive better standards elsewhere. Brands and their agencies can feel confident in buying through known and safe partners, and ad tech and publishers can be easily recognized as such trusted partners.

Security and Business Continuity

Since TAG TrustNet is built on a distributed ledger not managed by a single organization, it doesn't have a single point of failure and is much less prone to failures, cyberattacks and fraud. It includes end-to-end data encryption, integrity, authenticity and other security features required to protect the network against being compromised.

Join TAG TrustNet Today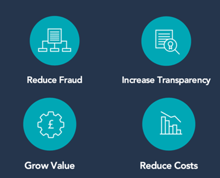 Now is the right time to sign up to start getting the early benefits of TAG TrustNet in your business and drive growth for the future. If your company is interested in joining the world-class industry leaders already participating in TAG TrustNet, here's how to get started, our team is ready to answer any questions:


TAG
Adrian Lacey
Director Policy & Standards
trustnet@tagtoday.net

Fiducia
Phill Hayman
Customer Success Director
phillip.hayman@fiducia.eco