March 23, 2023
TAG Turns The Tide On Ad-Supported Piracy in Europe
Report Shows 86% of of Brands Reduced Ads on Pirate Sites in Europe After Being Alerted to Such Ads by TAG's Project Brand Integrity
London, UK – 23 March 2023 – The Trustworthy Accountability Group (TAG), the world's leading programme to fight criminal activity and strengthen brand safety in digital advertising, today released the second annual report on its anti-piracy initiative, Project Brand Integrity (PBI), highlighting its continued success in reducing ad-supported piracy in Europe.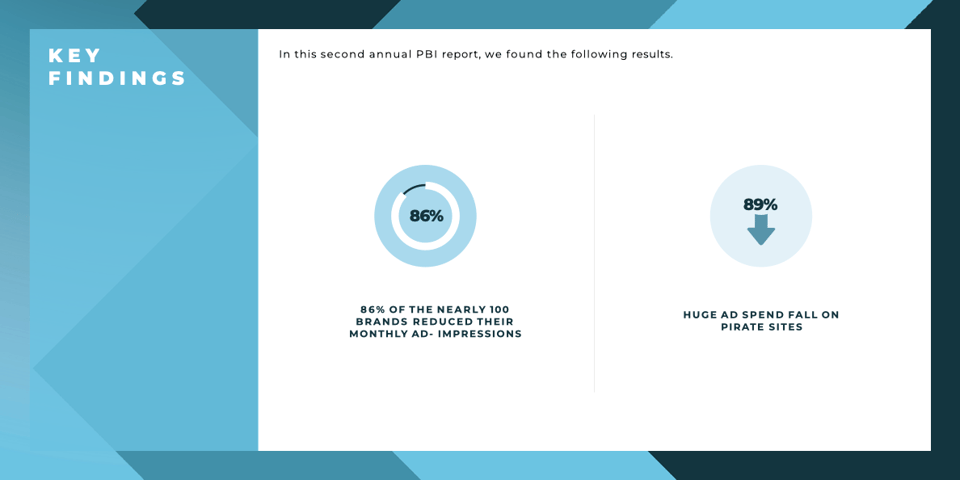 The report found that 86% of brands contacted by PBI in 2022 reduced their ad impressions on pirate sites in Europe when alerted that their ads were running on such sites. As a result, the average monthly ad spending by major brands on high-risk and other sites that infringe on intellectual property (IP) fell by 89% in 2022.
"Criminals hide in the dark, which is why Project Brand Integrity shines a spotlight on ad-supported piracy by alerting advertisers when their ads run on IP-theft sites," said Jules Kendrick, MD, UK & Europe for TAG. "I'm happy to say that the vast majority of responsible advertisers took action last year when they found out their ads were supporting pirate sites. This demonstrates the effectiveness of PBI's work and the power of continual education and information to reduce criminal activity in digital advertising."
TAG launched PBI in February 2019 in partnership with UK-based anti-piracy and brand safety specialist White Bullet to help advertisers safeguard their brands by alerting advertisers when their ads are found to have run on high-risk and IP-infringing websites.
PBI builds upon TAG's Brand Safety Certified Programme, which includes robust anti-piracy requirements for companies. As of March 2023, 127 companies have obtained TAG's Brand Safety Certified Seal, with 43% of them applying the standard to their global operations. PBI's direct engagement with advertisers and their agencies also includes other industry and public policy efforts, such as the Memorandum of Understanding (MoU) on Online Advertising and Intellectual Property Rights (IPR) facilitated by the European Commission in 2018.
Through the PBI partnership, White Bullet monitors high-risk websites that infringe on IP in the European digital ad markets and provides information to TAG about display ads on those sites. TAG then notifies advertisers (or their agencies) privately and confidentially when a substantial number of their ads run on these sites and provides the advertiser with actionable information and tools to reduce its risk, including participation in TAG's Brand Safety Certified Programme.
"While we've made great strides in the fight against ad-supported piracy in Europe, we still have a long way to go," said Peter Szyszko, Founder and CEO, White Bullet. "PBI's identify-and-alert model has cut off the money flowing to criminals who profit from IP theft by enlisting the advertisers whose ads are appearing on those sites as allies. Now, we plan to expand that successful model to other regions of the world this year."
The PBI annual report also analysed the state of ad-supported piracy in Europe over the past year. Key findings included:
Piracy domains continue to relocate – with 76% of websites monitored since 2019 having migrated or changed by redirecting to a different domain.

In-house digital advertising can find its way to pirate sites – as internal spending by advertisers sometimes lacks the anti-piracy tools and standards of agencies.

Affiliate marketing can also be a path to ad-supported piracy – as 14% of advertiser impressions on high-risk websites come through affiliate marketing.
TAG's second PBI Annual Report can be found here. Additional information about TAG's Brand Safety Certified Programme can be found at https://www.tagtoday.net/brand-safety.
---
About the Trustworthy Accountability Group
The Trustworthy Accountability Group (TAG) is the global certification program designed to fight against criminal activity and protect brand safety in the digital advertising industry. TAG advances its mission of eliminating fraudulent traffic, facilitating the sharing of threat intelligence, and promoting brand safety by connecting industry leaders, analyzing threats, and sharing best practices worldwide. The 700+ member TAG community includes the world's largest and most influential brands, agencies, publishers, and ad tech providers. For more information on TAG, please visit tagtoday.net.
###