March 15, 2023
Sustained Success In Fighting Asia-Pacific Fraud: Certified Channels Hold IVT Rate Under 1% For Fourth Straight Year
Annual Snapshot of TAG's Asia-Pacific Anti-Fraud Campaign Includes First-Ever TAG Analysis of IVT in China, Highlighting Early Progress
Singapore – 15 March 2023 – The Trustworthy Accountability Group (TAG), the world's leading program to fight criminal activity and strengthen brand safety in digital advertising, today released its fourth annual analysis of fraud in Asia-Pacific markets. The 2023 TAG Asia-Pacific Fraud Snapshot showed sustained industry success in holding invalid traffic (IVT) under the industry target of 1% in TAG Certified Channels, where multiple supply chain participants have adopted high anti-fraud standards.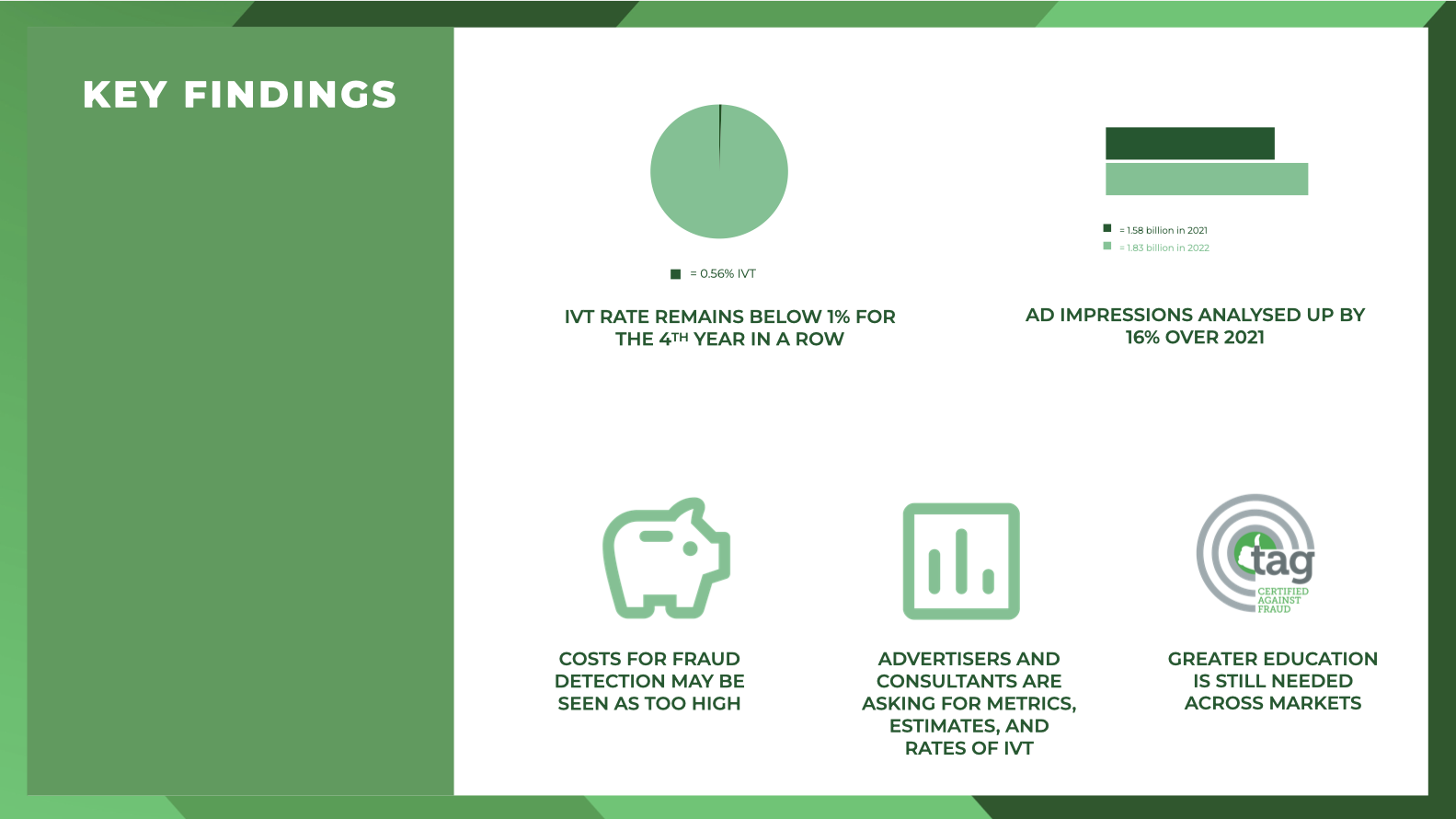 Conducted by The 614 Group, the analysislysis found a 0.56% percent rate for invalid traffic in TAG Certified channels, where multiple entities involved in the transaction, such as the media agency, buy-side platform, sell-side platform, and/or publisher, have achieved the TAG Certified Against Fraud Seal. In Non-Certified Channels (NCC), the rate was more than 66% higher at 0.93%.
"For Asia-Pacific advertisers and their supply chain partners, the ultimate goal is consistent, low, and predictable IVT," said Nick Stringer, TAG VP Global Engagement and Operations. "Happily, advertisers whose Asia-Pacific partners have adopted industry best practices in fighting fraud, have been able to hold IVT in those certified channels under the 1% milestone for four years running, protecting both marketers' budgets and supply chain confidence."
The 614 Group study measured IVT rates in TAG Certified Channels by analysing 183 billion ad impressions from January to December 2022 from three of the largest advertising agency holding companies across Australia, India, Indonesia, Japan, New Zealand, Singapore, Thailand, and Vietnam. The number of impressions measured increased 16% from the 158 billion measured in 2021.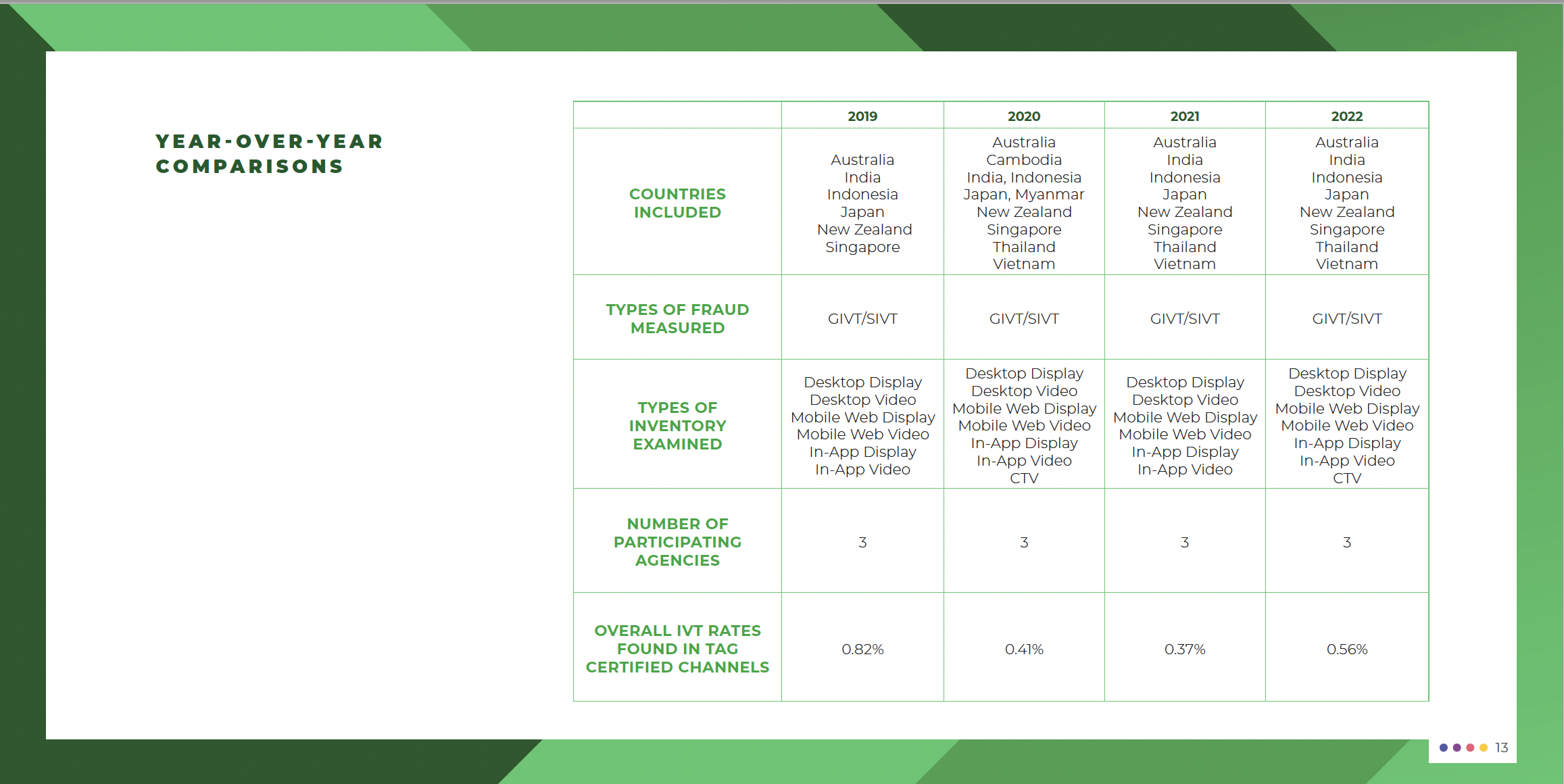 For the first time, TAG's Asia-Pacific Fraud Snapshot also included a special analysis of IVT in China, in partnership with a key TAG partner, the China Advertising Association (CAA) The CAA is a national non-profit industry organization voluntarily formed by advertisers, publishers, intermediaries, as well as local advertising industry organizations.
The analysis found that China had an overall IVT rate of 5.93%, which is approximately 50% lower than the estimated global average of 11.88%, based on published IVT rates from MRC-accredited vendors, including DoubleVerify, Human, Integral Ad Science and Pixalate. The China analysis included 1.66 trillion ad impressions provided by measurement vendors in China. The impression data submitted reflects only the Chinese customers participating in these four companies' monitoring businesses and therefore not the entire market.
"After three years of measuring the success of TAG's programs across Asia-Pacific markets, we are excited and honoured to include an analysis on China for the first time," said Rob Rasko, CEO of The 614 Group. "We are deeply appreciative for the close partnership with the CAA and local companies across China's advertising industry to study these important issues, and we plan for next year's report to build on this work."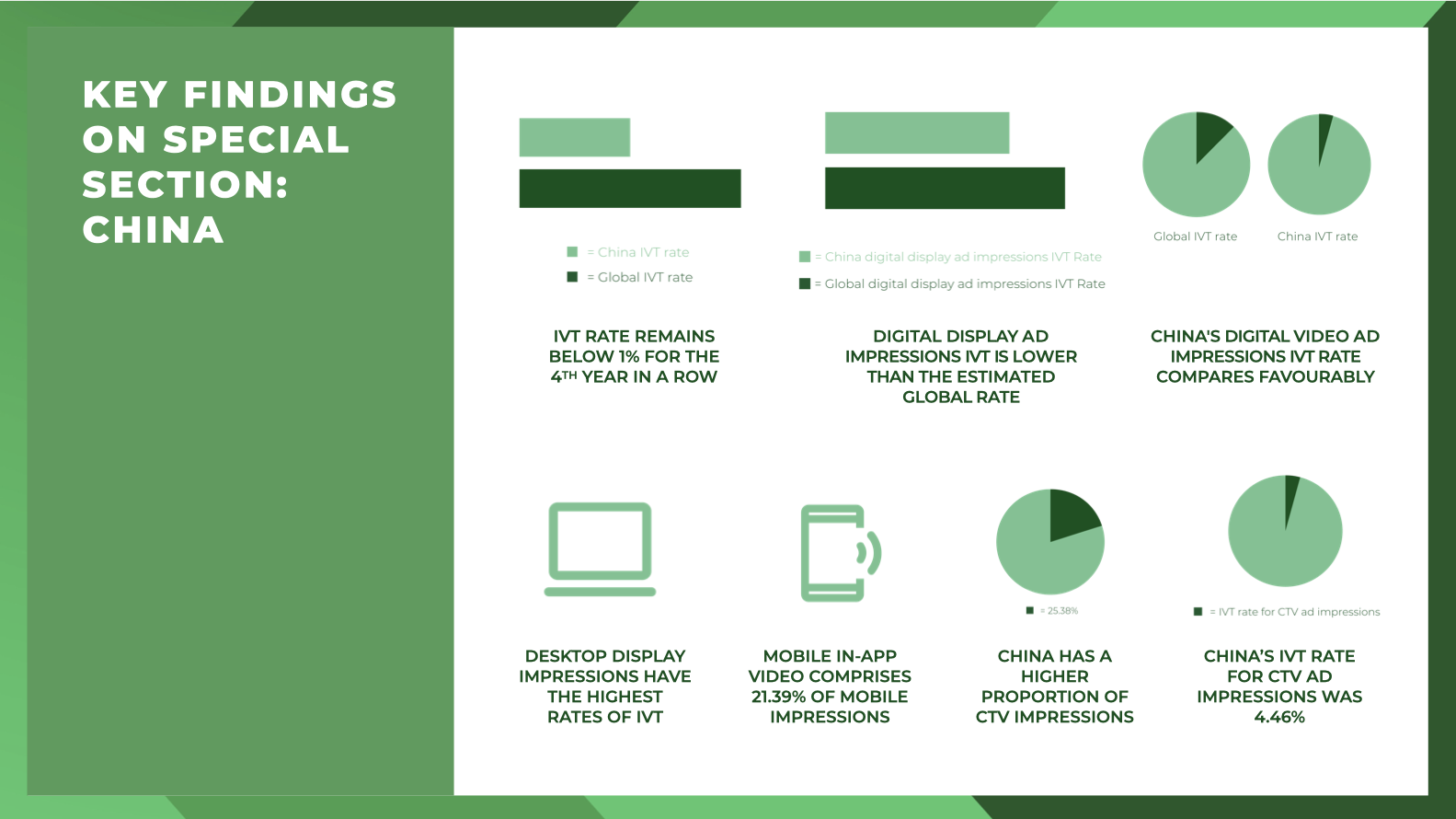 In addition to the data analysis, the 2023 TAG Asia-Pacific Fraud Snapshot also included qualitative research based on interviews with senior executives at Publicis Groupe, Omnicom Media Group, GroupM, and DoubleVerify.
Among the findings from those interviews:
The costs for fraud detection may still be seen as too high in some Asia-Pacific markets, given the low CPM rates and the substantial premium for low-fraud inventory in those markets.

Advertisers and their consultants in Asia-Pacific markets are increasingly asking for hard metrics around fraud and IVT, including estimates and even guarantees during the pitch process to hire an agency.

Some brand advertisers have an expectation that their agencies are already buying low-fraud inventory, when the agency may still be purchasing lower-cost and lower-quality inventory.
The full 2023 TAG Asia-Pacific Fraud Snapshot can be found here. Additional information about TAG's Certified Against Fraud Program and how companies from across the advertising ecosystem can receive the TAG Certified Against Fraud Seal can be found at tagtoday.net/fraud.
---
Methodology
This report uses the methodology established by The 614 Group in 2017 for the first TAG Benchmark Study (conducted in the United States), which has since been used in all TAG Fraud Benchmark and Snapshot Studies undertaken around the globe. The Asia-Pacific markets studied for this report included the following: Australia, India, Indonesia, Japan, New Zealand, Singapore, Thailand and Vietnam.
Between January and December 2022, The 614 Group analyzed data from leading agency holding companies -- along with their measurement vendors accredited by the Media Rating Council (MRC) -- to collect and aggregate impressions for campaigns that were executed in the select Asia-Pacific markets listed above. These impressions included display media and video ads in desktop, mobile web and in-app environments. The analysis did not use sampling of any kind; 100% of the impressions received from the agencies who shared data were analyzed.
Upon receipt, all data was aggregated within a secure database in order to create the proper reporting. In addition, The 614 Group conducted a series of industry expert interviews with executives at agencies and others on background for qualitative perspectives.
The analysis of measured IVT rates in China appears in a separate section of the Asia-Pacific Fraud Snapshot because ad fraud filtration methods, requirements and measurement certifications are different in China than in other Asia-Pacific markets. While the research methods used in China are recognized as valid by TAG, they cannot be directly compared to the research findings from the eight markets included in our Asia-Pacific Snapshot. For more information on the China analysis and methodology, consult the China section of the report.
---
About the Trustworthy Accountability Group
The Trustworthy Accountability Group (TAG) is the global certification program designed to fight against criminal activity and protect brand safety in the digital advertising industry. TAG advances its mission of eliminating fraudulent traffic, facilitating the sharing of threat intelligence, and promoting brand safety by connecting industry leaders, analyzing threats, and sharing best practices worldwide. The 700+ member TAG community includes the world's largest and most influential brands, agencies, publishers, and ad tech providers. For more information on TAG, please visit tagtoday.net.
###