September 29, 2020
TAG Today - September 2020
TOP STORIES:
TAG Launches Ad Industry's First Global Brand Safety Certification
No challenge in digital advertising is more vexing and complicated than brand safety, which must navigate a tangle of intertwined issues, stakeholders from across the supply chain, variation by region and country, and an inherent subjectivity around parameters.

To help companies around the world address this challenge, TAG recently launched its fourth and final certification program, the TAG Brand Safety Certified Program. Participants in the program benefit from the industry's leading education, collaboration, intelligence, and standards around brand safety, all protecting themselves and their partnerships worldwide.
The TAG Brand Safety Certified Program is the ad industry's largest and broadest global brand safety certification program, with 112 companies certified at launch, including 31 that are certifying their global operations. Among the TAG Brand Safety Certified companies are Amazon Advertising, Facebook, Google, GroupM, Havas, Kroger, Omnicom Media Group, Samsung Ads, Sky Ltd., Thomson Reuters, TripAdvisor, Twitter, and Walmart.

"There is no magic bullet to ensuring brand safety, but it would be brand malpractice not to adopt these industry-consensus standards to reduce that risk," said Mike Zaneis, CEO of TAG. "With broad adoption at launch across every sector of the supply chain, the TAG Brand Safety Certified Program will help companies demonstrate their commitment to brand protection and ensure that advertising partners have taken the necessary steps to reduce the risk of unsafe ad placements. This program completes the TAG certification suite, so companies now can adopt a unified set of solutions that shows their leadership in addressing ad fraud, malvertising, and brand safety challenges."

The TAG Brand Safety Certified Program is designed to significantly reduce the risk of the misplacement of advertising on digital media of all types, so all companies can help protect brand safety and strengthen the integrity of digital advertising. The program promotes the flow of advertising budgets to companies that set high standards and support the industry's framework for brand safety. The program serves the entire digital advertising supply chain by providing transparency, choice and control for buyers – enabling them to buy advertising inventory with confidence and creating a brand safety framework for sellers that increases the value of certified sellers' inventory.

At launch, the TAG Brand Safety Certified Program includes dozens of companies that were participants in the former JICWEBS Digital Trading Standards Group (DTSG) Program before the TAG merger and are now compliant with the new program requirements. The TAG Brand Safety Certified Program will continue to be part of the IAB Gold Standard for UK companies.
Media coverage of the launch included articles in Adweek, AdAge, MediaPost, The Drum, AdExchanger, Mobile Marketing, Video Ad News, ExchangeWire, PPC Land, Social Media Today, Netimperative, and Reuters. More information and a full list of companies achieving the certification can be found here.
TAG Completes Successful DLT Pilot with Leading Brands, Agencies, Ad Tech Players
Earlier this month, TAG announced the successful completion of a twelve-month cross-industry pilot program to evaluate the feasibility and potential benefits of Distributed Ledger Technology (DLT) to increase trust and transparency in digital advertising.
The pilot – originally launched pre-merger by JICWEBS - included participants from major brands including Nestle, Telefonica/O2, McDonald's, Virgin Media and Johnson & Johnson; agencies including GroupM, Havas, IPG, Mindshare, OMD, and Zenith; and more than 15 prominent ad tech providers and publishers spanning nearly every segment of the supply chain.
"Building a more transparent ecosystem requires both innovation and collaboration, and this pilot has demonstrated our industry's commitment to working together to quickly and thoroughly evaluate new technologies," said Jules Kendrick, Managing Director UK & Europe for TAG. "Our pilot showed promising opportunities for a DLT platform, including the potential to achieve a 'Shared Truth' where the same data is recognized as valid and accurate across the supply chain."
To further evaluate both the opportunities and challenges facing a DLT industry consortium network, TAG plans to launch an industry consultation to share detailed information about the initiative and give stakeholders across the industry the opportunity to give their input to determine how best to move forward. Interested parties can contact TAG's Director of Strategy and Standards, Adrian Lacey, for further details.
TAG partnered with London-based tech business FIDUCIA for the pilot, which ran from July 2019 to July 2020 and included 20 data feeds spanning Demand Side Platforms, Supply Side Platforms, Content Verification Tools, and Publishers. The pilot analysed 112 million impressions worth £1.4M across 127 campaigns. Details on the pilot can be found here.
Coverage of the successful completion of the pilot included Campaign UK, WARC, Ledger Insights, Enterprise Times, and ExchangeWire.
New TAG Website
We're delighted to announce the launch of a brand new TAG website that highlights the valuable work of the organization and ways that companies can get involved. Check it out at tagtoday.net!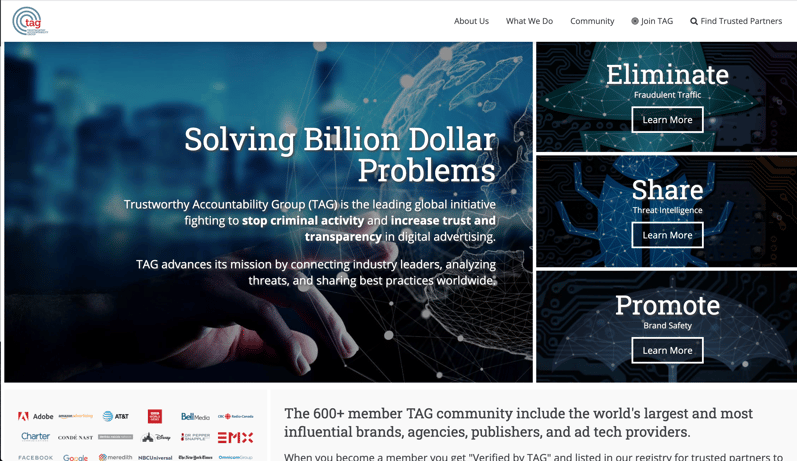 ---

TAG in the News
From the article "Facebook Makes Brand Safety Upgrades" in AdAge:
Facebook also touted its work with industry organization like the Trustworthy Accountability Group, which launched a brand safety certification program last week. Facebook is a party to that program. The program covers Facebook, Instagram and Facebook Audience Network, and "demonstrates a commitment to brand protection."
From an op-ed by Jules Kendrick, TAG Managing Director, UK & Europe, in WARC:
"There has been no shortage of media coverage in the advertising space relating to blockchain and DLT over the past few years. While many industries have begun to successfully embrace the technology - notably finance, banking and insurance – many, including ours, are still figuring out how this technology, and more importantly the collaborative way of working it requires, can be used to solve some of our most pressing challenges. …
"The TAG DLT pilot successfully demonstrated that an appropriate DLT platform, used in the context of an industry consortium network, was able to deliver reconciled impression data in near real-time recorded in a secure immutable shared ledger for a reasonable cost. It also showed how providing access to this kind of data under the control of the data owner can drive significant benefits for all participants to the supply chain and for the industry. In particular, a DTL platform could strengthen industry trust by implementing always-on accountability."
---
A PR Reminder from TAG
We love it when TAG members highlight our work together to fight digital ad crime and improve transparency. Please send any TAG-related press releases, blogs, or other announcements to Andrew Weinstein at andrewwstn@gmail.com for review before release.
A PR Reminder from TAG
We love it when TAG members highlight our work together to fight digital ad crime and improve transparency. Please send any TAG-related press releases, blogs, or other announcements to Andrew Weinstein at andrewwstn@gmail.com for review before release.
Topics: Blog