TOP STORIES: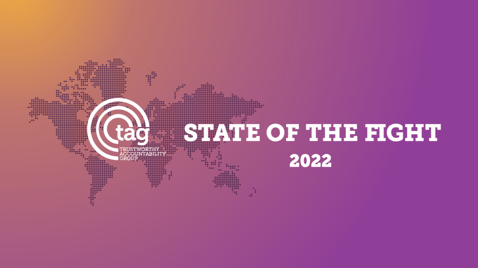 TAG Convenes Industry Leaders at Seventh Annual "State of the Fight" Briefing
On October 19, TAG held its seventh annual "State of the Fight" briefing in New York City. Building on the success of the 2021 event, TAG brought together a range of industry leaders to discuss some of the top fraud, malware, transparency, and brand safety challenges facing the industry, while updating attendees on the progress made by TAG over the last year and plans for 2023 and beyond.
Expert-led panels at TAG's 2022 "State of the Fight" included:
Are Criminals the Smartest People in Advertising?

with Clare Meehan from Amazon Advertising, Jerome Dangu from Confiant, Lyndsay Superczysnki-Matthies from Yahoo, and Mike Lyden from TAG;

The Brand Safety Forecast

- with Amy Good from Spark Foundry and Louis Jones from the Brand Safety Institute;

A Case in Trust

– with TAG CEO Mike Zaneis and Tom Triscari from Fiducia;

It Takes a Community to Fight Fraud

- with Deva Bronson from Dentsu and Rob Rasko from The 614 Group;

The Secret Weapon in Combatting Ad-Supported Piracy

- with Abe Farraj from NBC Universal and Nick Stringer from TAG; and
The Inconvenient Truth: How Fraud, Piracy, and Malvertising Collide

– with

Alex Groysman from Spectrum Reach, Scott Cunningham from Cunningham.tech,

and

Rachel Nyswander Thomas from TAG.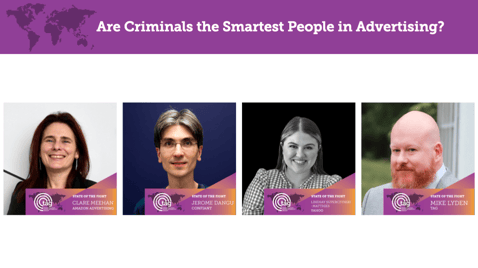 TAG team members also walked attendees through the 2023 recertification process, including a timeline of upcoming dates in the process. Notable existing requirements and changes for each of TAG's seal programs for the 2023 recertification requirements were also highlighted. If you have any questions about your company's recertification deadlines or requirements, please contact info@tagtoday.net.
---
2022 TAG/BSI Brand Safety Survey: The News Is Good When It Comes to Brand Safety in Journalism
According to a new survey conducted among 1,110 US respondents by TAG and the Brand Safety Institute, consumers broadly believe that all news content is appropriate for ads.
Only one in four respondents said any specific news topic should be off-limits to ads, while nearly half (46 percent) said all high-quality journalism should be appropriate for ads. Reinforcing those findings, respondents said by an overwhelming margin (69 percent to 31 percent) that ad funding for coverage of the Ukraine war was more important than the risk of ads appearing near violent content about the war.
Commenting on the findings, TAG CEO Mike Zaneis said, "It looks like the answer to 'What is brand-safe journalism?' may be 'All of it,' Consumers clearly see the value to high-quality, ad-supported journalism, and they prioritize funding for those news-gathering operations over any risk of ad misplacement with sensitive or controversial news-related content. This is good news for both advertisers and publishers, who can protect ad-funded journalism and the large audiences who follow it, while turning their attention to more complex brand suitability issues around the types of content that are most appropriate for their brands."
When asked about specific topics, only small minorities of respondents said news coverage of those subjects should not be supported by ads, such as news about the war in Ukraine (19 percent), COVID-19 (19 percent), riots/civil unrest (22 percent), police brutality (22 percent), drug abuse/overdoses (23 percent), LGBTQ+ issues (23 percent), abortion (23 percent), school shootings (25 percent), controversial politicians (26 percent), or murder/violent crime (27 percent).
By contrast, far larger percentages of respondents said nine other types of non-news content should be blocked by advertisers. Those "noxious nine" topics, which align with equivalent categories in the GARM Brand Safety Suitability Framework, are:
Sexually-explicit or pornographic content (70 percent said block nearby ads)
Hate speech or racist content (70 percent)
Unsafe or hacked websites (68 percent)
Illegal drug-related content (65 percent)
Terrorism-related content (59 percent)
Content about violence, injury, or death (53 percent)
Stolen/pirated movies or TV shows (48 percent)
Profanity or obscene language (48 percent)
Gun and ammunition-related content (46 percent)
"Brand safety issues are complicated and often involve a spectrum of shades of gray, which is why education of key stakeholders across the industry is so important," said Neal Thurman, co-founder of BSI. "This survey highlights the nuanced perspective that consumers are developing around brand safety and suitability topics, and the findings can help inform the decisions that brands, publishers, and other stakeholders are making, as they work to protect their brands, ad campaigns, and customers from unsafe and inappropriate content."
Among other findings of the survey:
Consumers believe that brand unsafe content is pervasive online, with respondents saying they believe roughly half (51 percent) of all online content is dangerous, offensive, or inappropriate
More than three-quarters (76 percent) said the U.S. had the biggest problem with dangerous, offensive, or inappropriate content online versus just 11 percent for the U.K./Europe and 13 percent for the Asia-Pacific region
A large majority of respondents (85 percent) said hate speech has increased online over the last year, including 45 percent saying it increased "a great deal"
An overwhelming majority (88 percent) said it is very or somewhat important that advertisers ensure their ads are not placed near brand unsafe content
A similarly large group of respondents (88 percent) said they would feel more positive about a company that required its partners to be independently certified for brand safety
Respondents felt the responsibility for brand safety should be shared across participants in the ad ecosystem, including advertisers (60 percent), ad agencies (58 percent), tech providers (48 percent), and publishers (59 percent)
This is the fourth consumer survey conducted by TAG and BSI on brand safety topics, following a survey conducted of U.K. consumers in 2022 and the last survey conducted of US consumers in 2020. The full results of the 2022 TAG/BSI Consumer Brand Safety Survey can be found here.
---
TAG on the Dais: IAB Hong Kong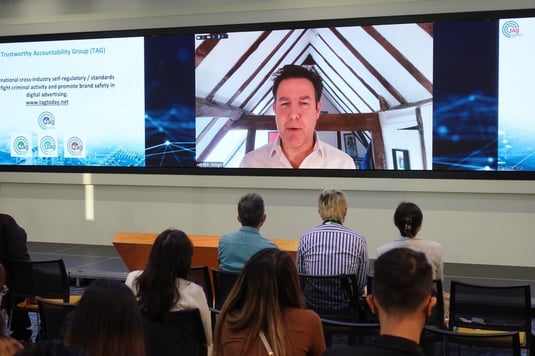 TAG's Nick Stringer hosted a panel at the IAB Hong Kong event "Protect Your Brand in Today's Digital World." The panel also served as a soft launch of TAG's standards in the Hong Kong market, following the announcement of the IAB HK partnership last year. The full panel (in Cantonese) can be viewed here.
---
TAG IN THE NEWS
From "Premion Gets Brand Safety Seal from Trustworthy Accountability Group" in Broadcasting & Cable:

"Our TAG Brand Safety Certified Program serves the digital advertising supply chain by providing transparency, choice and control for buyers, enabling them to buy advertising inventory with confidence and creating a brand safety framework that increases the value of certified sellers' inventory," TAG CEO Mike Zaneis said. "We commend Premion for its commitment to building a safe and trustworthy supply chain by adopting the industry's best practices for brand safety and ad fraud protection."
---
One more thing...


🧑🏻‍💻👨🏼‍💻👩🏽‍💻 - Leverage TAG Research into Your Everyday!
From APAC Fraud Snapshot reports, to UK Brand Safety Consumer reports, to Best Practices whitepapers, TAG's research is here to support our member's day-to-day compliance as well as strategic planning.
Visit our Data and Insight page 👉 tagtoday.net/insights
📣📣📣 - Let's Make Some Noise Together 🤝
We love it when TAG members highlight our work together to fight digital ad crime and improve transparency. Please send any TAG-related press releases, blogs, or other announcements to Andrew Weinstein at andrewwstn@gmail.com for review before release.
Topics: Blog