UK consumers have said they would boycott favourite brands if their ads appeared near COVID-19 conspiracies
UK consumers had made their point about brand safety. They're definitely more aware of the issues surrounding brand safety (83.5% to be exact) and they believe that the responsibility of ad placement lies equally across the supply chain.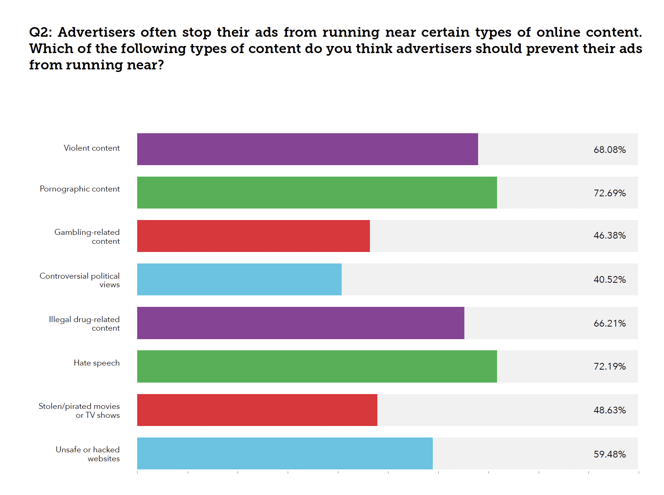 90.3% of UK consumers think there's a large portion of today's online content that can be classified as dangerous, offensive or inappropriate. With content and news stories around hate speech, pornography and violence being at the top of the exclusion list for ad placement.
"The tragic and momentous events of the last year have elevated not only the importance of high brand safety standards but the need to focus on consumer expectations, not conventional wisdom," said Jules Kendrick, TAG MD of UK and Europe. "This research shows that consumers believe that brand safety should be a top-tier priority and a shared responsibility across the industry, which is why TAG has built a global cross-industry certification program to support those efforts."
"The past year has brought forth the four horsemen of toxic content into the advertising ecosystem: death, lies, political poison, and hate speech," said Mike Zaneis, CEO of TAG. "As brand safety threats quickly evolve, UK consumers are looking to advertising industry leaders to identify and address those types of unsafe and inappropriate content in real-time. TAG's Brand Safety Certification sets a rigorous global standard for brand safety across all supply chain participants while providing the flexibility to adapt to new and emerging challenges."
In September, TAG launched the ad industry's first global brand safety certification program with more than 110 major companies participating at launch, including Amazon, Facebook, Google, GroupM, Havas, Kroger, Omnicom Media Group, Twitter, and Walmart. The program sets rigorous standards for companies across the supply chain to demonstrate their commitment to brand safety.
The results of this year's survey are consistent with findings from a survey conducted on similar topics by TAG and BSI last year. The full results of the 2021 TAG/BSI UK Brand Safety Consumer Survey can be found here.
Download "2021 TAG & BSI UK Brand Safety Consumer Survey"