TOP STORIES:
TAG Today – October 2018
TOP STORIES:
TAG to Implement New Programmatic Standards for Ad Exchanges
Earlier this month, six of the leading advertising exchanges jointly sent a joint letter to TAG outlining principles for a better programmatic marketplace and asking TAG to help review and codify those principles into new standards for certification. Signatories of the letter included the CEOs of OpenX, PubMatic, Rubicon Project, Sovrn, SpotX and Telaria.
The letter included new proposed standards around efficiency, transparency, and fair-market principles that will now go to TAG's Business Transparency Committee for evaluation, revision, and consideration.
Responding to the letter, TAG CEO Mike Zaneis said, "Leading advertising exchanges coming together to develop a shared set of principles on transparency, efficiency, and fair-market values in programmatic is an incredibly important step forward for the entire advertising industry. These principles raise the bar for how exchanges operate and will ultimately make programmatic a better space for advertisers and publishers."
"These companies are investing in a better future for digital advertising," he continued. "TAG looks forward to working with the broader industry to take these principles and develop a new certification which will ensure brands, agencies, and publishers that their partners are committed to a fair, efficient, and transparent programmatic supply chain. We look forward to reviewing and advancing the goals of these principles within TAG's Business Transparency Committee."
Coverage of the letter included AdExchanger, Adweek, AdAge, Campaign, MarTech Today, ExchangeWire, and Mobile Marketing.
In order to broaden industry engagement on this topic, TAG hosted a webinar briefing for companies to ask questions of the signing exchanges. If you were not one of the 100+ participants for the event, you can watch the recording here.
JICWEBS & TAG Align UK Efforts Under TAG Certified Against Fraud
Building on a partnership announced in January, TAG and the Joint Industry Committee for Web Standards (JICWEBS) announced last week that they would jointly align their anti-fraud efforts under the TAG Certified Against Fraud program in the UK beginning on January 1, 2019. The merged anti-fraud certification will complete the second of three phases in a plan announced by both organizations earlier this year to align their brand safety and anti-fraud initiatives.
"Quite simply, this is a game-changer for the UK," said Richard Foan, Executive Chairman of JICWEBS in announcing the milestone. "The battle against online ad fraud is global, and it's best tackled with an aligned approach. By adopting TAG's 'Certified Against Fraud' programme, the UK market will benefit from a proven approach that has delivered impressive results in the US."
Seconding that sentiment, TAG CEO Mike Zaneis said, "In the US, companies using TAG Certified Channels have seen an 83% reduction in fraud compared to the broader industry average. The UK and US will now benefit from one standard in both markets, and we look forward to working with JICWEBS to align approaches further."
Coverage of the announcement included CNBC, The Drum, Campaign, Marketing Week, Netimperative, MRWeb, Mobile Marketing, MediaTel, Mind (France), and MediaPost.
TAG Leadership Council Meets with FBI Officials
Earlier this month, members of the TAG Leadership Council met at FBI Headquarters with representatives from the FBI Cybercrimes and Financial Crimes Units, as well as the FBI representatives to the DHS Intellectual Property Rights (IPR) Center.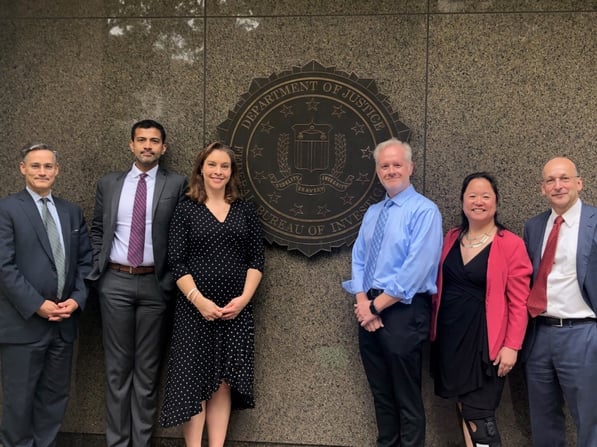 Miss the TAG Compliance Officer Briefing? We've Got You Covered!
If you missed the TAG Compliance Officer briefing on September 18th, we've got your back. Take the time to read and review the briefing materials at your leisure. Enjoy!
Get Ready for 2019 Recertification!
TAG 2019 recertifications for all seal programs begin on January 1, 2019 with a deadline of January 31, 2019 for all recertification applications. (These deadlines do not apply to new applications for certification, which can take place at any point during the year.) Be on the lookout for recertification materials in your email in early November!
TAG IN THE NEWS
From an op-ed by Anudit Vikram, SVP of Audience Solutions for Dun & Bradstreet, in ExchangeWire:
If you are buying media, either through an agency or in-house, there are several things that you should be thinking about to ensure you are getting a good return on your investment and not paying for fraudulent clicks. Over USD$7.4bn (£5.63bn) was wasted on display ads alone in 2016, according to Forrester, and is expected to rise to over USD$10.9bn (£8.29bn) by 2021, if steps are not taken to mitigate the situation. …
It's important to know that the companies you are doing business with are who they say they are. Having that data is crucial to the success of your programmatic ad programme. Organisations like the Trustworthy Accountability Group (TAG) are working to certify ad tech supply chains by verifying the identity of participating companies. TAG provides an industry white list for advertisers, helping authenticate over 200 advertising companies across 20 countries.
From Bob Liodice, CEO of the Association of National Advertisers, at the ANA's Masters of Marketing Conference (via The Drum):
Liodice, speaking at the ANA Masters of Marketing Conference in Florida, said that over the past few years, the ANA has transformed its operations and leadership platforms to energize its members and the marketing community at large to meet the industry's most difficult challenges. One of the most important initiatives for the organization is the CMO Masters Circle, which is working on unifying the agendas of chief marketing officers and trying to create a powerful leadership force to transform and grow the industry. …
Importantly, the ANA is helping to tackle brand safety and ad fraud by announcing the fourth edition of the ANA/White Ops study on ad fraud – which was the first study to indicate that fraud was costing the industry nearly $7bn annually – which will be released in early 2019. Additional ANA anti-ad fraud efforts are initiated through the Trustworthy Accountability Group (TAG).
A PR Reminder from TAG
We love it when TAG members highlight our work together to fight digital ad crime and improve transparency. Please send any TAG-related press releases, blogs, or other announcements to Andrew Weinstein at andrewwstn@gmail.com for review before release.