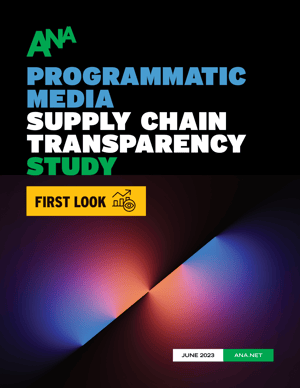 LANDMARK ANA STUDY PROJECTS $20B IN SAVINGS THROUGH INCREASED TRANSPARENCY, VALIDATES TAG TRUSTNET APPROACH
For more than a year, TAG has been working with the Association of National Advertisers (ANA) to conduct a groundbreaking study of the programmatic media buying ecosystem by examining log-level data through TAG TrustNet's cutting-edge transparency framework.
Earlier this month, the ANA released a first look at the results of that study with the headline finding that advertisers could drive up to $20 billion dollars in improved efficiencies by increasing transparency in their supply chains, including $15 billion of savings by avoiding placements on unwanted Made-for-Advertising (MFA) sites.
The ANA's recommendations strongly validated the approach taken by TAG's Certified for Transparency Program, as the study urged advertisers to create supply chain contracts that "provide complete access to data and full transparency of websites purchased" including access to "log-level data (LLD) from every AdTech vendor across an advertiser's supply chain." That broad access to log-level data from supply chain partners is the cornerstone of TAG TrustNet's technology framework.
On the same day the study was released, TAG also unveiled a series of partnerships to transform advertisers' ability to address unwanted MFA spending and other brand priorities, like DEI and privacy compliance.
Through its new partnerships, TAG TrustNet will now be able to offer:
MFA site identification

- Using

Deepsee.io's PublisherRisk platform

, TAG TrustNet will help marketers identify non-performant and low-quality MFA sites in their campaigns.

Minority ownership ratings

- Based on

Neutronian's NQI Minority Ownership Verification

, TAG TrustNet will integrate validation and scoring of publishers or companies who identify as minority owned, including female-owned and LGBTQ+ owned businesses, so brands can better achieve their DEI goals.

Privacy compliance

- In partnership with

SafeGuard Privacy's

Vendor Compliance Hub software, TAG TrustNet will be able to show marketers that their supply chain partners are transparently demonstrating their privacy compliance.
Summarizing the announcements, TAG CEO Mike Zaneis said, "We know that billions of dollars are wasted each year due to lack of transparency and low-quality placements on MFA sites. Happily, the ANA study also focused on an effective solution. When advertisers take control of their log-level transactional data through a transparency framework like TAG TrustNet, the 'unknown delta' drops to zero, as advertisers can track exactly where each dollar is being spent. Put simply, adopting a log-level transparency framework like TAG TrustNet could be a $20 billion opportunity for marketers."
For more information on how TAG's Certified for Transparency Program can increase transparency, reduce MFA spending, and save money across your campaigns, visit https://www.tagtoday.net/transparency
TAG EUROPEAN FRAUD STUDY HIGHLIGHTS HALF A DECADE OF IVT RATES UNDER 1% IN TAG CERTIFIED CHANNELS
The 2023 TAG European Fraud Benchmark study is out, and invalid traffic (IVT) remains at rock bottom levels in TAG Certified Channels (TCCs) in Europe where multiple participants involved in an ad transaction adopt TAG's rigorous anti-fraud standards. According to the study, the invalid traffic (IVT) rate in TCCs in Europe was just 0.68% last year, and it remained in a tight range of 0.53% to 0.69% across all five years of the study.
"If you had told a major brand or agency in 2018 that you could hold their IVT rates under 1% for the next five years, they would have thought you were either a liar or a fool," said Mike Zaneis, CEO of TAG. "Happily, the TAG model works, not only in Europe but worldwide, and study after study has shown that inventory that runs through TAG Certified Channels is able to maintain the consistent, low, and predictable IVT rates that seemed nearly unimaginable just a few years ago."
The study also showed significant progress in the industry's fight against fraud in the connected TV (CTV) space, with an 86% drop in IVT when comparing the TCC rate of 1.28% with the Non-Certified Channel (NCC) rate of 8.85%.
The study also highlighted several themes that emerged from in-depth interviews with senior executives from the participating agencies and other ad tech companies.
Advertisers in Europe are cost-conscious but willing to pay for high-quality, low-IVT impressions. Amid uncertain global economic prospects and ongoing risk of recession, agencies and their clients are increasingly cost-conscious, but they continue to value and are willing to pay a premium for high-quality, low-IVT inventory.
European advertisers are increasingly interested in global certifications that provide validation of low IVT rates. While recognition of global certifications is lower in some European markets, regional advertisers are showing increasing interest in certifications that help them identify and purchase low IVT inventory.
Advertisers' priorities are extending beyond low IVT to encompass safe, transparent, and responsible inventory. Holding IVT rates down is still one of the top priorities for agencies, but they also want to address related supply chain challenges like Made-for-Advertising sites; diversity issues (DEI); and privacy concerns.
The study was conducted by The 614 Group and evaluated IVT rates in TCC by measuring more than 259 billion ad impressions in TCCs from January-December 2022 from three of the largest advertising agency holding companies across the United Kingdom, Germany, France, Italy, and the Netherlands. The full results of the study can be found here.
LEADING DIGITAL AD BUSINESSES IN SOUTHEAST ASIA URGE REGION-WIDE ADOPTION OF TAG STANDARDS
Following a leadership roundtable discussion in Singapore in March, twenty-two of the largest and most influential digital advertising businesses operating in Southeast Asia (SEA) issued a call to action for adoption of TAG standards across the region to reduce advertising-related criminal activity and strengthen brand safety. Each company joining the call has implemented TAG's standards across their Southeast Asian operations.
Specifically, each participating company in the announcement made a commitment to advance regional adoption of rigorous industry standards by:
Supporting TAG and its global efforts to address criminal activity and to ensure brand safety in digital advertising;

Promoting TAG standards to achieve this goal in SEA, as well as improving the return on investment (ROI) for brand advertisers; and

Encouraging the wider industry in SEA to participate, comply with the standards, and to contribute to the industry's pursuit of increased trust and transparency in the industry.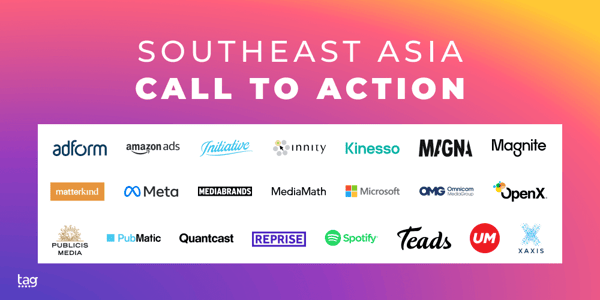 "Complicated and fast-changing challenges like ad fraud and brand safety must be addressed holistically by our industry, so we can ensure all advertisers and consumers in the region are protected by the same high standards," said TAG's VP Global Engagement and Operations, Nick Stringer. "These Southeast Asian industry leaders are at the forefront of this fight by taking essential steps to protect their businesses, their partners but most importantly their customers and users. After experiencing the benefits of this 360-approach, they are asking for others to follow and combine efforts to reinforce Southeast Asia's defences against this threat".
TAG ROARS AT CANNES LIONS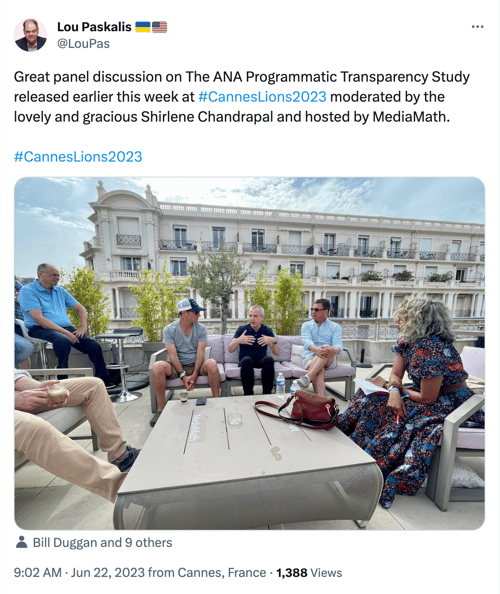 Team TAG joined scores of member companies in the south of France from June 19-23 for the annual Cannes Lions, International Festival of Creativity. TAG CEO Mike Zaneis, MD UK and Europe Jules Kendrick, and Adrian Lacey, TAG Policy & Compliance Director, set the pace quickly with a packed series of announcements, events, panels, and 1:1 meetings.
TAG's week kicked off on Monday with the announcement of the ANA's much anticipated programmatic supply chain study in a panel discussion kicked off by ANA CEO Bob Liodice and hosted by former MMA President and COO Lou Paskalis at which Mike was joined by fellow panelists Tom Triscare of Lemonade Projects, John Piccone of Adform, and Amy Adams of Discover Financial Services.
Tuesday MIke joined more than a dozen tech executives at a brunch hosted by Zefr to discuss AI safety in digital advertising. Other participants included Chris Deri from Weber Shandwick, Kerry Flynn from Axios, Amanda Grant from GroupM, Jennifer Helm from Meta Beatriz Perez from the Coca-Cola Companies, Robert Rakowitz from GARM, Lisa Osborne Ross from Edelman, and Samantha Stetson from Meta.
In a story on the event, Axios highlighted a perspective from Mike: "What I'm encouraged by is the activity of ... the companies. It always starts with the larger companies leaning in. It doesn't take 100 industry leaders to move the market. It takes a couple of key advertisers."
On Wednesday, Jules joined Saiful Ahmed of Omnicom Media Group and Tom Burns of Publicis Media to release and discuss the 2023 TAG European Fraud Benchmark study as part of the Brand Safety Summit Series' "Digital Talks at Cannes" series.
Finally, discussion of the ANA study continued at another panel hosted by Shirlene Chandrapal of Redmill Solutions and joined again by Mike and Lou Paskalis.
TAG SHINES ITS FIRST "MEMBER SPOTLIGHT" ON MEDIAMATH

Kicking off a new "Member Spotlight" series that focuses on the great work and unique perspectives of TAG member companies, TAG's Vanessa Goff-Yu talks to Mediamath's Justin Adler-Swanberg about the brand safety nexus, ad fraud, malvertising, and other emerging issues in the industry.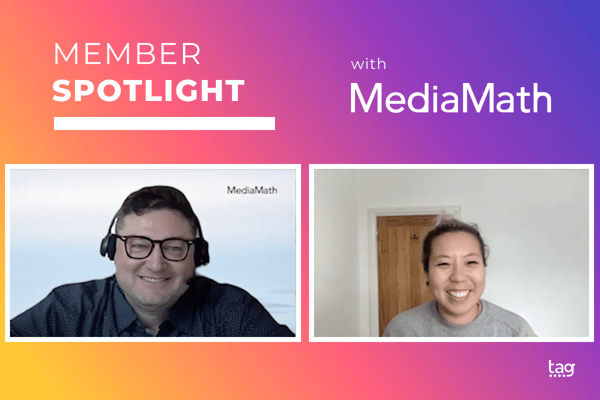 From "Trustworthy Accountability Group Tackles MFA SItes" in MediaPost:
On the heels of today's release of a damning Association of National Advertisers' report revealing the depth and breadth of programmatic ad spending on so-called "made-for-advertising" (MFA) websites, one of its authors, the Trustworthy Accountability Group (TAG) unveiled a new service to manage the problem.
The service -- a collaboration of TAG's TrustNet and Deepsee.io -- is part of a suite of new fraud mitigation, DEI and privacy compliance services TAG has aligned with, but the one with Deepsee.io is designed explicitly to provide a tool that advertisers can use to simply identity bogus MFA sites (see dashboard below), assess their risks, and create exclusion lists ensuring they are not part of a brand's programmatic ad spending.
"They have a list of MFA sites and we are partnering with them to make this list of MFA sites accessible on the TrustNet platform so marketers can do their diligence very easily," TAG CEO Mike Zaneis says, adding: "This all has to be automated and managed in real time."


From "Ad Industry Pledges to Uphold Brand Safety Standards in SEA" from Campaign Asia:
22 digital advertising businesses in Southeast Asia have come together to advocate for the adoption of rigorous industry standards aimed at reducing advertising-related criminal activity and enhancing brand safety in the region.
These companies have already implemented the standards set by the Trustworthy Accountability Group (TAG) across their operations in Southeast Asia, citing research that demonstrates the positive impact of these standards on protecting consumers and the digital advertising ecosystem from fraudulent activities and inappropriate ad placements. . …
Dominic Barnard, the head of programmatic for Asia Pacific at GroupM Nexus said being a certified global partner of TAG aligns with the agency's ambitions to increase verification standards and transparency to our clients and the wider industry. "
The TAG programmes provide a strong framework to ensure best practices are in place which improve our programmatic supply and maintain the integrity of the digital advertising ecosystem," said Bernard. "Engaging with these programmes globally and regionally helps maximize marketers' investment in digital and further reduces opportunities for fraud and inventory misrepresentation in the media supply chain."
Noting that brand safety and ad fraud are amongst the top five inhibitors to digital advertising adoption, Sonal Patel, managing director for APAC at Quantcast, added: "Adhering to set standards is one way to improve trust within the advertising industry, which will in turn contribute to better experiences for consumers."


From "Nasmedia Acquired TAG Brand Safety Certification, Korean company's first" in Asia Today:
Nasmedia, a digital marketing platform company of the KT Group, announced on the 23rd that it had acquired the TAG brand safety certification mark for the first time in Korea from TAG (Trustworthy Accountability Group).
The purpose of the TAG Brand Safety program is to give advertisers peace of mind when purchasing digital advertising space by ensuring that certified companies take necessary safety measures to protect their brands.
TAG Brand Safety certification is the most prestigious global brand safety certification program in the advertising industry, and global companies such as Google and Facebook have also obtained the certification.
[Translated via Google Translate from original Korean]
---
Leverage TAG Research into Your Everyday!
From APAC Fraud Snapshot reports, to UK Brand Safety Consumer reports, to Best Practices whitepapers, TAG's research is here to support our member's day-to-day compliance as well as strategic planning.
Visit our Data and Insight page 👉 tagtoday.net/insights


Let's Make Some Noise Together 🤝
We love it when TAG members highlight our work together to fight digital ad crime and improve transparency. Please send any TAG-related press releases, blogs, or other announcements to Andrew Weinstein at andrewwstn@gmail.com for review before release.
Topics: Blog