TOP STORIES:
TAG ADVANCES 2021 STRATEGIC OBJECTIVES TO EXPAND GLOBAL REACH, IMPACT, AND COLLABORATION
As the global advertising industry emerges from the chaos of 2020 into a new year of continued uncertainty, TAG is charting a path forward to advance its mission of eliminating fraudulent traffic, sharing threat intelligence, and promoting brand safety. As part of that planning process, TAG has unveiled its 2021 strategic objectives, the major program priorities for the organization for the year.
2021 Strategic Objectives
Expand Global Reach of TAG Brand Safety Certified Program


In 2020, TAG inaugurated the ad industry's first global brand safety program with more than 110 major companies at launch, including 31 who certified their global operations. This year, TAG plans to accelerate the growth of that program worldwide by recruiting leading companies in every region, with a core focus on Asia-Pacific (APAC), given the strong current participation in Europe and North America.

Strengthen Certified Against Fraud Program's Role in Stopping OTT/CTV Fraud


Last year, TAG brought stakeholders across the digital ad industry together to identify and address key challenges in fighting fraud effectively in Connected Television (CTV). We also raised the TAG Certified Against Fraud standards to better address CTV fraud by requiring monitoring of 100% of monetizable traffic against Sophisticated Invalid Traffic (SIVT). Those results paid dividends, as the latest TAG US fraud study showed a rate of just .6% Invalid Traffic (IVT) in TAG Certified CTV Channels, and TAG intends to extend those anti-fraud success through the design and implementation of CTV-specific initiatives in 2021, so it can drive trust in and adoption of this growing medium.
Making Buying Through TAG Certified Channels as Easy as Clicking a Button
Study after study has demonstrated the benefits of purchasing inventory from TAG Certified Channels, with IVT reduction of 90% or more from industry norms in markets across the globe. This year, TAG intends to make that purchase process a turnkey solution for agencies and marketers, so they can simply check a box to get TAG Certified inventory, either through our TAG Automated Channel Election initiative or future processes via TAG TrustNet, our collaborative Distributed Ledger Technology (DLT) initiative.
Solidify TAG's Role as a World-Class Threat- Sharing Organization
Over the last year, criminal groups and individuals have attempted to exploit the global tumult by launching new and brazen ad fraud and malvertising attacks on the supply chain. Happily, TAG's Threat Exchange stood ready for the challenge, working with TAG members to identify and combat new threats and quickly disseminate threat intelligence to the full TAG Community. Over the coming year, TAG plans to further expand both the TAG Threat Exchange's capabilities and the number of companies participating, and it will advance its ongoing education efforts to weave the imperative of threat-sharing into the fabric of the digital advertising industry. Our goal is to establish a deep-rooted threat-sharing culture in digital advertising like those that have helped keep other industries safe from criminal endeavors.
TAG RECOGNIZES VINOD PANICKER AND CHRISTIAN MARTINE OF AMAZON ADVERTISING AS 2020 "TAG TRUST CHAMPIONS"

Each year, TAG honors those industry leaders who have advanced the industry's efforts to fight criminal activity and improve brand safety across digital advertising by recognizing them as "TAG Trust Champions."
This year, we are delighted to recognize two thought leaders from Amazon Advertising- Vinod Panicker, Principal Product Manager, Supply Quality, and Christian Martine, Senior Program Manager, Supply Quality Certifications. Christian and Vinod have taken leading roles in driving TAG's Automated Channel Election (ACE) initiative, which will increase inventory transparency and quality by making the purchase of TAG Certified inventory as easy as checking a box on Demand Side Platforms (DSPs) and trade desks. They have also been leaders in the TAG Certified Against Fraud and Brand Safety Certified Programs.

Past TAG Trust Champions have included Marc Pritchard of Proctor & Gamble (2017); Scott Spencer of Google (2017); Steve Sullivan of Index Exchange (2017) Louisa Wong, David Murnick, and Olga O'Donnell of Dentsu Aegis (2018); Dallas Lawrence, Christopher Hallenbeck, and John Murphy of OpenX (2018); Lou Paskalis and Terri Schriver of Bank of America (2019), and Alexander Groysman and Lori Hopkins of Charter Communications (2019).

Please join us in sending our industry's appreciation to Vinod and Christian for their hard work and commitment to protecting the digital advertising supply chain!
2nd ANNUAL TAG/BSI SURVEY: STRONG CONSUMER SUPPORT FOR COMPANIES THAT REQUIRE BRAND SAFETY CERTIFICATION
Consumers strongly support companies that require their partners in the advertising supply chain to secure a brand safety certification, according to a survey conducted last month by TAG and the Brand Safety Institute (BSI). The survey found that an overwhelming majority of respondents (85%) said they would feel more positive about a company that required all of its ad partners to be independently certified to meet high safety standards for its ads.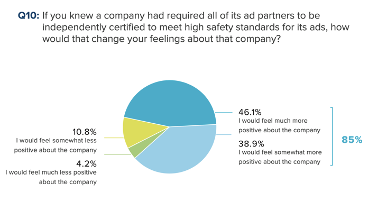 The survey also found a nuanced perception among respondents about appropriate content for advertising, with 40% saying all news content should be appropriate for ads, and the remainder differentiated between stories involving violence and death and those about policy, societal changes, and peaceful protests on the same issues. Consumers defined the issue of brand safety broadly, including not only inappropriate ad placements but also ad-related malware and ads placed near pirated content.
"The past year has been a witches' brew of toxic brand safety challenges across public health, economic, and political topics, and – happily – this survey showed the success of our industry's efforts to set higher standards and professionalize the field of brand safety," said Mike Zaneis, CEO of the TAG and co-founder of BSI. "Rather than clumsy and narrow traditional approaches that focused on specific keywords or solely on ad adjacency, we are now looking holistically at these challenges in a nuanced, consumer-centric way."
TAG IN THE NEWS
From "Brand Safety, Cyber Security Will Catch Ad Industry by Surprise in '21, TAG CEO Says" in MediaPost:

The advertising industry went through major changes in 2020, but none as thought-provoking as those that focused on racial sensitivity and brand safety. The changes will manifest in the ways consumers bond with brands in 2021.

"Yes, consumers will become savvy enough to avoid doing business with certain companies," said Mike Zaneis, CEO at Trustworthy Accountability Group (TAG). "Consumers are tracking along the same lines as companies across the industry during the past year or two, where we've become very aware of brand safety and how it can have negative implications on business."
Security will become a more important issue, he said, as consumers and the advertising industry hear more about cyberattacks.
"The industry will be surprised at the level of criminal [investigative] activity, mostly federal," he said. "We're involved in a number of investigations with law enforcement. It's something our industry has largely ignored. … We really just put out small fires, but now we're banding together as a group to create a community of firefighters."
A PR Reminder from TAG




We love it when TAG members highlight our work together to fight digital ad crime and improve transparency. Please send any TAG-related press releases, blogs, or other announcements to Andrew Weinstein at

andrewwstn@gmail.com

for review before release.
Topics: Blog