October 8, 2019
TAG Today - September 2019
TOP STORIES:

New Data from DMEXCO Shows Low Fraud for TAG Certified Channels in German
TAG Names New Working Group Co-Chairs, Outlines Areas of Focus
Meet Us on the Road
TAG in the News
TAG Today – September 2019
Industry Brief: TAG Members Raise the Bar on Malware Scanning
A new industry brief released by TAG last week highlighted the aggressive steps being taken by TAG members in the fight against malware.
While TAG's Certified Against Malware standards require all companies to scan a "reasonable percentage" of campaign assets and landing pages before a campaign launches, 83 percent of certified companies set a higher bar by scanning all assets and landing pages before launch. Certified companies said they scanned 92 percent of all campaign assets and pages prior to delivery on average, and 76 percent said they applied those standards globally.
Similarly, TAG's malware requirements require companies to rescan all campaign assets on a reasonable frequency, but 50 percent of certified companies said they employ a more frequent daily rescan methodology with some rescanning as frequently as every 15-30 minutes. Of the remainder, 25 percent of certified companies said they use a risk-based rescan methodology, while 25 percent use a volume-based rescan methodology.
Commenting on the findings, TAG COO Rachel Nyswander Thomas said, "One of the goals of this research was to understand how leaders in the space translate the 'reasonable' requirement into the percentage of assets upon which initial scans are run, as well as the frequency of rescans they run on all assets. These findings give TAG – and the industry as a whole – a strong sense of current best practices, an important starting point to consider better and stronger requirements for the certification as it continues to evolve."
TAG worked with MediaPost on an exclusive story to share the findings.



New Data from DMEXCO Shows Low Fraud for TAG Certified Channels in Germany

During the DMEXCO conference in Cologne, Germany earlier this month, TAG and The 614 Group released a new report showing the effectiveness of using TAG Certified Channels to fight ad fraud in the German market. According to the data, digital advertising fraud rates in Germany were less than one percent when advertisers bought through companies that had achieved the TAG Certified Against Fraud Seal.
Drawn from more than four billion ad impressions in the first half of 2019, the report builds on previously released research by The 614 Group which has found that TAG's certification standards have proven effective in reducing ad fraud in Europe and the United States.
The new report found that the Invalid Traffic (IVT)* rate on media within TAG Certified Channels in Germany averaged just .66 percent across all desktop, mobile, and video. By comparison, the benchmark IVT rate for German advertising released by Oracle Data Cloud's Moat Analytics was 2.37 percent, a significant reduction of 72 percent.
The full report can be found here.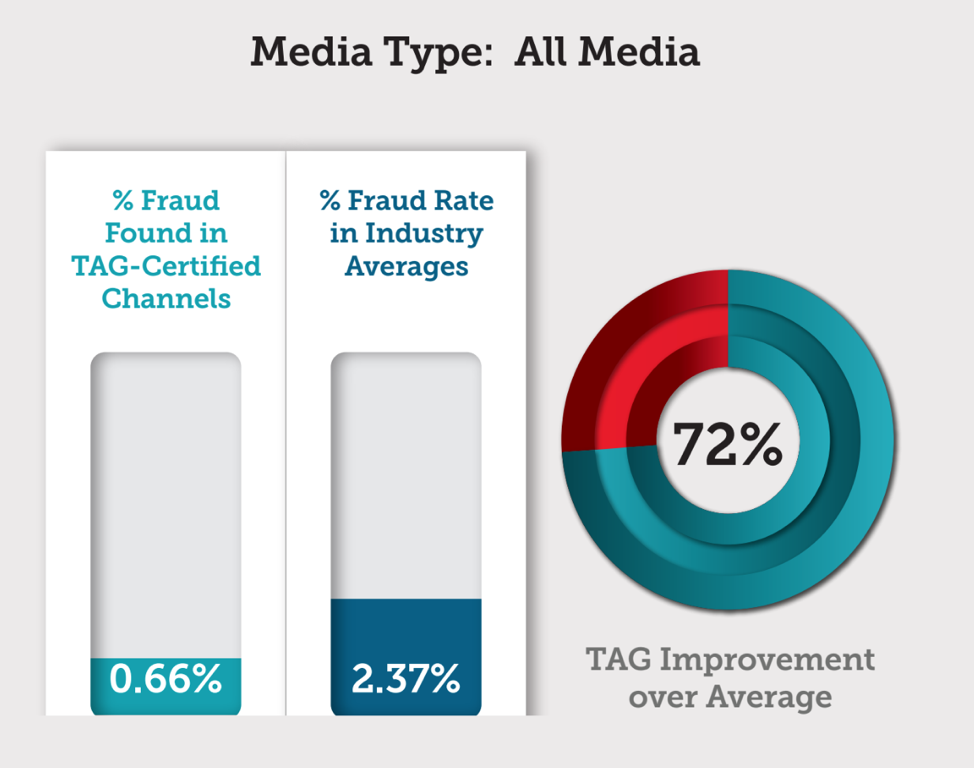 TAG Names New Working Group Co-Chairs, Outlines Areas of Focus
We are delighted to announce the incoming Co-Chairs for the four working groups that collaborate with TAG to develop and implement best practices, certification standards, and enforcement mechanisms for all of TAG's certification and transparency programs. Each working group also outlined some of the areas for its priority work for the remainder of the year
Chris Hallenbeck of OpenX and Matthew Nguyen of The Trade Desk have taken the reins as Co-Chairs of TAG's Anti-Malware Working Group. That working group will focus on:
Exploring how to better educate and engage the buy-side in fighting malware that uses the digital advertising supply chain as an attack vector and

Reviewing and updating the Certified Against Malware Program, including guidelines and tools to enable companies to better fight malware.
David Green of NBC Universal will be joined by Joe Barone of GroupM as Co-Chairs of the Anti-Piracy Working Group. That working group's priorities include:
Reviewing and updating the Certified Against Piracy Guidelines for the 2020 cycle;

Evaluating and redesigning the Pirate Mobile App List to increase its efficacy and value in reducing ad piracy within in-app environments; and

Continuing its strong public policy engagement to support for "Follow the Money" initiatives in the EU and beyond.
Three industry leaders have agreed to serve as Co-Chairs of the Business Transparency Committee: Megan Frisbie of Annalect/OMD, Vinod Panicker of Amazon Advertising, and Alexander Groysman of Charter Communications. That working group plans to focus on:
Providing strategic insights into TAG's research and thought leadership agenda;

Realization of TAG-ID transparency in the digital advertising supply chain; and

Developing a global transparency program encompassing key aspects of DTSG, IQG and others to provide the greatest efficacy and value to the digital advertising supply chain. Once TAG and JICWEBS establish the framework with the help of the Business Transparency Committee, the Inventory Quality Working Group will resume meeting to build out program documentation.
Finally, Scott Spencer of Google and John Alleva of NBC Universal will continue to serve as Co-Chairs of TAG's Anti-Fraud Working Group. The 2020 priorities for the working group include:
Redesigning the publisher sourcing disclosure requirement to enable companies to reduce ad fraud from paid traffic sourcing;

Reviewing and updating the Certified Against Fraud Program, including new/existing guidelines and tools to best address the evolution of fraud in the digital advertising supply chain within today's marketplace; and

Evaluate and redesign TAG's Data Center IP List to increase its efficacy and value in reducing ad fraud.
Please join me in welcoming all of the new and continuing Co-Chairs to these vital leadership roles!
Meet Us on the Road! TAG's Fall Event Schedule
TAG executives have kicked off a packed speaking and event schedule that includes many of the largest industry gatherings this fall. Please let us know if you plan to attend any of the upcoming events. We'd love to see you and talk about ways to advance TAG's efforts together!
DMEXCO– Cologne, Germany, September 11-12: TAG hosted a roundtable on Building Trust with representatives from Oracle, Smaato, White Bullet, and Unilever (Board member of German advertiser body, OWM).
NBCU Piracy Symposium – New York, September 10: TAG took part in a day of organizing the content community and the digital advertising industry to discuss current threats around ad-supported piracy and industry responses.
ANA Data Conference – Naples, Florida, September 9: TAG participated in this important conference to engage with marketers.
Fraudnomics Conference – New York, September 17: TAG moderated a brand safety panel session focused on influencer fraud and our Certified Against Fraud certification.
European Anti-Piracy Summit – Brussels, September 23: TAG presented an update on Project Brand Integrity to a European Commission-moderated meeting on tackling ad-supported piracy.
Advertising Week – New York, September 23-26: TAG is participating in several events during this year's Advertising Week NYC.
ANA Masters Conference – Orlando, Florida, October 2-5: TAG will participate in the industry's largest annual gathering of the advertising community.
Trust Consortium – New York, October 15: TAG will host a session on ad fraud during this event.
ROI Festival – Shanghai, China, October 15: TAG will participate in a session on brand safety at this large APAC-focused event.
TAG Annual Community Briefing – New York, NY, October 16: The TAG Community comes together for a strategic briefing on the state of the fight against criminal activity in the digital ad supply chain.
TAG IN THE NEWS
From an interview with Rob Leathern, Director of Product Management at Facebook, in PYMNTS.com:
Collaboration with advertising platforms is another vital part of Facebook's ad fraud prevention strategy. The company is part of the leadership council of the Trustworthy Accountability Group (TAG), a cross-industry initiative geared toward eliminating fraudulent ad traffic. Its members include Amazon, Disney and Google.
"Many of these bad actors are targeting a variety of different players in the ecosystem," Leathern said. "The different companies [that] are exposed to these risks have to be talking to one another, either through an industry body like TAG or even directly."
A PR Reminder from TAG
We love it when TAG members highlight our work together to fight digital ad crime and improve transparency. Please send any TAG-related press releases, blogs, or other announcements to Andrew Weinstein at andrewwstn@gmail.com for review before release.
Topics: Blog