TOP STORIES:
TAG Releases White Paper on Need for Global Standards at DMEXCO
Kicking off this year's DMEXCO conference in Cologne, Germany, TAG released a new White Paper – "Global Standards for Local Markets: A Roadmap for Establishing Global Harmonization in Digital Advertising Standards" – that highlights the need for consistent and scalable global standards to tackle cross-border industry challenges, such as brand safety and fraud, while also leveraging the needs and expertise of national markets.
The TAG White Paper identified challenges requiring global consistency and outlines existing industry standards in areas such as ad blocking, fraudulent traffic, viewability, malware, ad-funded piracy, and ad misplacement. The paper described the importance and benefits of a global approach in addressing these challenges, and it proposed a global standards framework in digital advertising that also meets the needs and requirements of national markets – i.e. 'global standards for local markets' – through collaboration with local and regional entities.
Speaking at DMEXCO, Nick Stringer, TAG's VP of Global Engagement & Operations, said, "Global challenges require global solutions, and we must work as an industry to create a consistent framework across countries and regions that promotes the effectiveness and growth of digital advertising worldwide. Advertisers want to see a consistent approach across markets, and several industry programmes are working collaboratively to build and connect global standards to meet the needs of advertisers across the world's digital markets. This paper provides a strong rationale for the continued harmonization of global standards, and TAG looks forward to engaging with international stakeholders to advance that goal."

TAG Welcomes Industry Veteran as New Director of Compliance
Compliance is the glue that holds industry self-regulation and accreditation efforts like TAG together. When we can show robust cross-industry compliance with our programs, we send a powerful signal to partners, regulators, and the marketplace that TAG members are taking the steps necessary to adopt best practices, raise standards, and protect the supply chain.
When TAG began looking for a Director of Compliance to lead our member compliance process, we set a high bar for that position as well, which is why we are so delighted to announce that Todd Miller has recently accepted the position as TAG's Director of Compliance.
Todd brings deep experience in the compliance process from across the digital advertising industry, having served as Compliance Officer at RhythmOne, CJ Affiliate and Online Intelligence. He has over fourteen years of experience working to ensure quality and compliance for online advertising companies, and he's helped in developing policies and procedures for clients ranging from Apple to Zappos. Prior to those compliance-related positions, Todd was Senior Producer for Web Development at Addictive Media/NetLojix Communications, working with clients such as Disney, the United Nations, and Sony Entertainment.
At TAG, Todd will be working closely with all of our member companies to help them understand and maintain the high standards necessary to fight fraud, prevent ad-supported piracy, stop malware, and increase transparency.
Please join us in welcoming Todd to the TAG team, and let him know (at todd@tagtoday.net) if you have any questions on your own compliance efforts!
TAG Working Group Update – Get Involved!
As we move into the final quarter of 2018, each of TAG's working groups is advancing an active agenda around its primary areas of focus, so they can help ensure TAG's tools and programs remain relevant and address evolving challenges in today's digital advertising landscape.
Key Q4 initiatives for each TAG Working Group include:
Anti-Fraud Working Group:
Enhancing IVT measurement & filtration requirements for Over-the-Top, Set-Top Box and Connected TV environments
Assessing buy-side usage Paid Traffic Source Disclosures and Ads.txt tools
Updating TAG Fraud Taxonomy to provide accurate and consistent terminology for all types of "invalid traffic" (including ad fraud)
Anti-Piracy Working Group:
Evangelizing the Certified Against Piracy program's path to compliance for Publishers
Developing best practices for advertisers and agencies combat digital piracy on infringing sites
Supporting "Follow the Money" initiatives, such as the recent signing of the European Commission's Memorandum of Understanding, to ensure strong public policy engagement in the US, EU and beyond
Anti-Malware Working Group
Developing best practices for partner / seat-ID vetting and management
Develop Technical Best Practices against Malware v.3
Support TAG's evolution of the Threat Sharing Hub (malware threats and beyond)
Inventory Quality Working Group
Engaging new participants in the


Inventory Quality Working Group
Identifying Key Changes for Inventory Quality Guidelines v.3 (publication in 2019)

Alignment with new standards
Consolidation / Clarification
Business Transparency Committee
Advising on buy-side usage of TAG's transparency tools
Advising on TAG's tool roadmap

TAG-ID Integration into DSPs, SSPs, Exchanges
Exploring shift from Payment ID System to secured chains of custody in OpenRTB v3.0/x
TAG's Working Groups are open to all TAG members, and we strongly encourage you to get involved and help shape TAG's policies and programs on the issues that are most relevant to you and your company. If you'd like to take part in any of TAG's Working Groups, please contact Bonnie Niederstrasser at bonnie@tagtoday.net.
TAG Expands Efforts in Turkey with GÜR Partnership
At a press event in Istanbul this week, TAG this week announced a new collaboration to expand its efforts in Turkey in partnership with GÜR, the Turkish platform for Trustworthy Digital Advertising, which was founded by the Advertising Agencies Association, the Advertisers Association, and IAB Turkey.
In the announcement, Ahmet Pura, Chairman of GÜR, emphasized the importance of transparency in building industry confidence and allowing continued growth. "Our collaboration with TAG is a very important step because we have concerns about transparency, viewability, brand safety, ad fraud, data access and third parties' measurement systems," said Pura. "All these are critical to invest with confidence."
Nick Stringer, TAG's VP of Global Engagement and Operations, said: "TAG is delighted to partner with GÜR, who have shown strong leadership in taking this step. It represents further progress towards a more transparent and criminal free digital advertising market across the world. The collaboration will benefit both Turkish companies as well as foreign ones operating in the Turkish market."
TAG IN THE NEWS
From an interview with Mike Zaneis, CEO of TAG, on Beet.tv: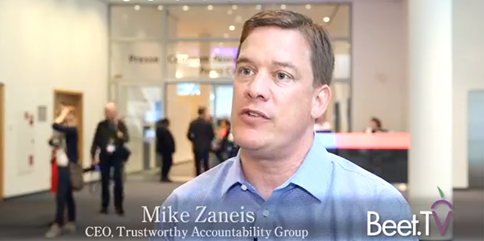 The newly formed Brand Safety Institute and the Trustworthy Accountability Group are pushing the digital advertising industry to invest billions of dollars to fight criminal elements in the same way as the financial services industry has done. It's a two-step process consisting of "a short game and a long game," says Mike Zaneis, CEO of TAG, which along with other groups is working with the BSI.
"Short term, it's always going to be Whac-A-Mole. The criminals are smart, they're well funded. The industry needs to up its game," Zaneis explains says in this interview with Beet.TV during TAG's first visit to the annual DMEXCO conference.
Longer term, "As we harden our economic model against criminal actions, what we hope is that it will be harder for them to profit and they'll start to look away. These are the same networks that used to be involved in online identity theft. They used to attack online banking systems."
From an op-ed by Phil Schraeder, President and COO, GumGum in AdExchanger:
Both brands and agencies need brand safety officers to monitor content of the ad ecosystem, as these are the organizations that are likely to care the most about how their brands are perceived by their consumers. While publishers and platforms also have a role to play, they don't have the same skin in the game.
A brand's brand safety officer would then have the sole responsibility for determining brand safety policies, liaising with key partners to ensure a high level of compliance nationally and educating and communicating with marketing peers and other executives across the company. …
The Brand Safety Institute was launched in July, formed by Mike Zaneis, president and CEO of the Trustworthy Accountability Group, and Neal Thurman, director at the Coalition for Better Ads. The organization will define best practices, provide a certification program for the new brand safety officer role and offer other kinds of supporting education, training and resources.
From a Q&A with Tim Cadogan, CEO of OpenX, in ExchangeWire:
Moreover, and crucially, new industry standards have emerged that allow buyers and sellers to independently verify the impact of these investments. Three of the most notable initiatives are the IAB's ads.txt, Trustworthy Accountability Group's (TAG) certification programs, and the IAB UK's Gold Standard. All three enable buyers and sellers to verify their trust in their technology partners and hold them accountable. …
Moreover, standards aren't just about transparency. They also play an important role in eliminating fraud and assuaging brand safety concerns, while also significantly increasing marketer ROAS. If you look at TAG certification, for example, it's been quantitatively demonstrated that advertisers who only include TAG certified companies in their supply chain can cut fraud rates by more than 80%, down to <2% levels.