TAG Member Spotlight
TAG in the News
TOP STORIES:
TAG "State of the Fight" Briefing Highlights 2019 Progress and 2020 Plans
On October 16th, TAG leadership held a briefing to update TAG member companies and other industry stakeholders on the state of the industry's fight against fraud, piracy, malware, and lack of transparency, as well as opportunities and challenges it sees for the year ahead.
TAG CEO Mike Zaneis and COO Rachel Nyswander Thomas described the last year as a period of tremendous growth and accelerating momentum for the organization, with nearly 150 companies having been awarded a total of 200 seals and more than 550 total companies that have completed the TAG Registration process. Cross-program participation also jumped with a 37% increase in companies certifying across more than one TAG program and a 60% increase in companies achieving TAG Platinum Status (i.e. all four seals).
During the briefing, TAG executives walked through the calendar and deadlines for 2020 recertification, including the January 31st deadline to apply. The TAG team briefed companies on several important updates to certification requirements included in new guidelines released over the past year, including:
Independent validation for all global and EU participants in the Certified Against Fraud (CAF) Program,
Implementation of app-threat filtering for CAF participants,
Use of OpenRTB v2.2 or higher for Certified Against Malware (CAM) participants, and
Implementation of Ads.txt and OpenRTB v2.2 or higher for all Inventory Quality Guideline (IQG) participants.
TAG shared key metrics on progress in fighting fraud, piracy, malware, and lack of transparency, including research from the past year showing the success of TAG Certified Channels in reducing fraud in the US and EU, a study showing major strides in the fight against ad-supported piracy, and steps taken by TAG members to raise the bar in blocking malware.
Participants were also invited to join TAG's four working groups to help TAG develop the next generation of standards to tackle new and emerging issues, such as:
Effective anti-fraud standards for the OTT/CTV space (CAF),
Evolving criminal behavior such as tag evasion (CAF),
Evaluation of different chain-of-custody technologies (CAF),
Appropriate levels of malware scanning and rescanning (CAM),
Best practices to address piracy in the mobile environment (CAP),
Tools to help brands buy through fraud-free channels (IQG), and
Ways to use digital ad identifiers to choose trusted industry partners (ICQ).
TAG executives also discussed emerging issues in each of the organization's program areas, provided an update on TAG's global vision and growth, described the smart partnerships being powered by TAG engagement across the industry, and outlined its support for efforts to professionalize the brand safety profession through the Brand Safety Institute.
Among the most innovative initiatives discussed was TAG's effort to create a threat-sharing culture in digital advertising. As the ad industry's first and only Information Sharing and Analysis Organization (ISAO), TAG serves as a vital clearinghouse for threat sharing between and among the ad industry and law enforcement agencies. TAG has also deployed a range of proprietary threat-sharing tools, including its compliance officer network, red flag briefings on breaking events, the TAG Data Center IP List, the TAG Pirate Mobile App List, and the TAG Malware Threat Sharing Hub. TAG is currently in the process of deploying a TAG Threat Exchange, powered by TruSTAR, that will allow TAG members to share and receive real-time, actionable, and relevant intelligence about new and emerging threats.
If you'd like to review TAG's Community Briefing in more detail, you can find the full presentation here.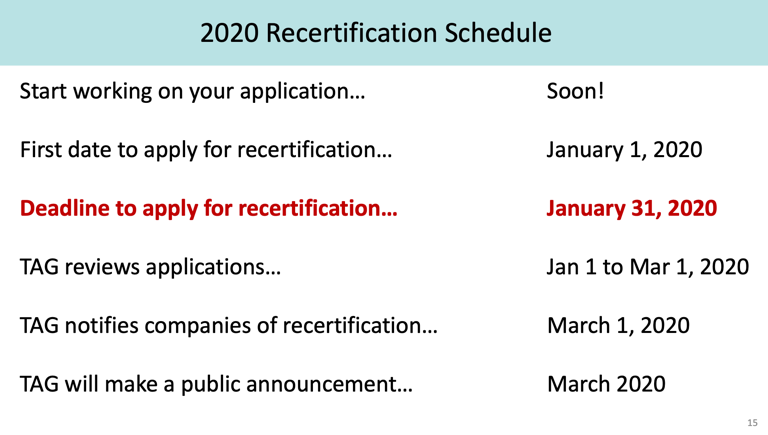 TAG Member Spotlight: Three Questions with Christian Martine, Senior Program Manager, Amazon Advertising

Why did Amazon Advertising decide to join the TAG Leadership Council?
Amazon's mission is to be earth's most customer-centric company. As an advertiser, publisher, and intermediary, we believe we can offer a useful perspective in standards development. Our customer obsession means we are committed to high standards in addressing fraud, malware, privacy, and brand safety concerns. We are excited to work with TAG's Leadership Council on the next generation of standards that build trust and value across the digital advertising industry.
What do you think is the most significant challenge currently facing the digital advertising supply chain?
Participation across a diverse set of stakeholders from different aspects of the industry is essential for effective development of digital advertising standards. Supply chain transparency is a broad area of industry concern, and we look forward to collaborating with stakeholders to develop standards that improve transparency and give confidence to advertisers that their ad dollars are being well spent.
How does Amazon Advertising work to protect advertisers and build confidence in digital advertising?
Amazon is committed to transparency and anti-fraud efforts and is actively participating in standards creation with groups including TAG, the MRC, and the IAB Tech Lab. In the UK, Amazon Advertising has attained the JICWEBS DTSG UK Brand Safety certification and has been awarded the IAB UK Gold Standard certification, which shows our commitment toward reducing ad fraud, improving the digital advertising experience, and increasing brand safety protections.

Amazon has long invested in systems and processes to protect advertisers from invalid spend. Our Traffic Quality team employs security engineers, machine learning scientists, analysts, and software engineers who build systems to effectively detect and take action on invalid traffic.
TAG IN THE NEWS
From "Brand Safety and Brand Suitability on UGC Platforms Are Different, and Brands Need Both" by Tony Chen, Founder and CEO of Channel Factory, in Forbes:
"According to a recent study by the Trustworthy Accountability Group, "more than 80% of consumers say they would reduce or stop purchases of products that advertised near extreme or dangerous content." That's what brand safety guidelines should focus on — extreme or dangerous content. And that's exactly what platforms like Google do — building standard, scalable safety standards and best practices."
From "Key Milestones on the Path to improved Trust in In-App Inventory" by Glenn Fishback, Chief Revenue Officer, Smaato, in MarTech Advisor.
"The Trustworthy Accountability Group (TAG) represents one of the most important advertising industry initiatives in the fight against criminal activity and improvement of transparency in the digital advertising supply chain. TAG certification requires an ongoing commitment to anti-fraud requirements, including following strict guidelines around IP blacklisting, complying with the MRC's invalid traffic detection and filtration requirements, and implementing the TAG Payment ID system. In becoming certified, mobile companies demonstrate their commitment to eliminating fraud within the in-app ecosystem, and with every certification, we take a step toward a better future for mobile advertising.
"TAG represents an important piece of a much larger push for the mobile industry—a push toward greater accountability that has been swift and well-documented. Over the past year, advertisers have rewarded the effort with an impressive spike in in-app spending. Meanwhile, recent research from Protected Media, an ad fraud solutions provider, showed that in-app advertising experienced 25 percent less fraudulent attempts than mobile web advertising in the second half of 2018."
A PR Reminder from TAG
We love it when TAG members highlight our work together to fight digital ad crime and improve transparency. Please send any TAG-related press releases, blogs, or other announcements to Andrew Weinstein at andrewwstn@gmail.com for review before release.
Topics: Blog