November 26, 2019
TAG Today - November 2019
TOP STORIES:
2019 Fraud Benchmark Study
White Paper - Use of IDs
TAG in the News
New TAG Fraud Benchmark Study Shows 88% Less IVT in TAG Certified Channels
Last week, TAG released the results of its third annual US fraud benchmarking study, which highlighted our industry's continuing success in reducing fraud within TAG Certified distribution channel thanks to expanded cross-industry collaboration and increased industry adoption of TAG's anti-fraud standards.
Based on an analysis by The 614 Group of more than 200 billion ad impressions from six of the largest ad agency holding companies, the study found that invalid traffic (IVT) rates in TAG Certified Channels fell to just 1.41 percent from 1.68 percent in the same prior year period, a 16 percent reduction. The 2019 fraud rate in TAG Certified Channels was 88 percent lower than a blended benchmark of IVT rates from MRC accredited anti-fraud vendors.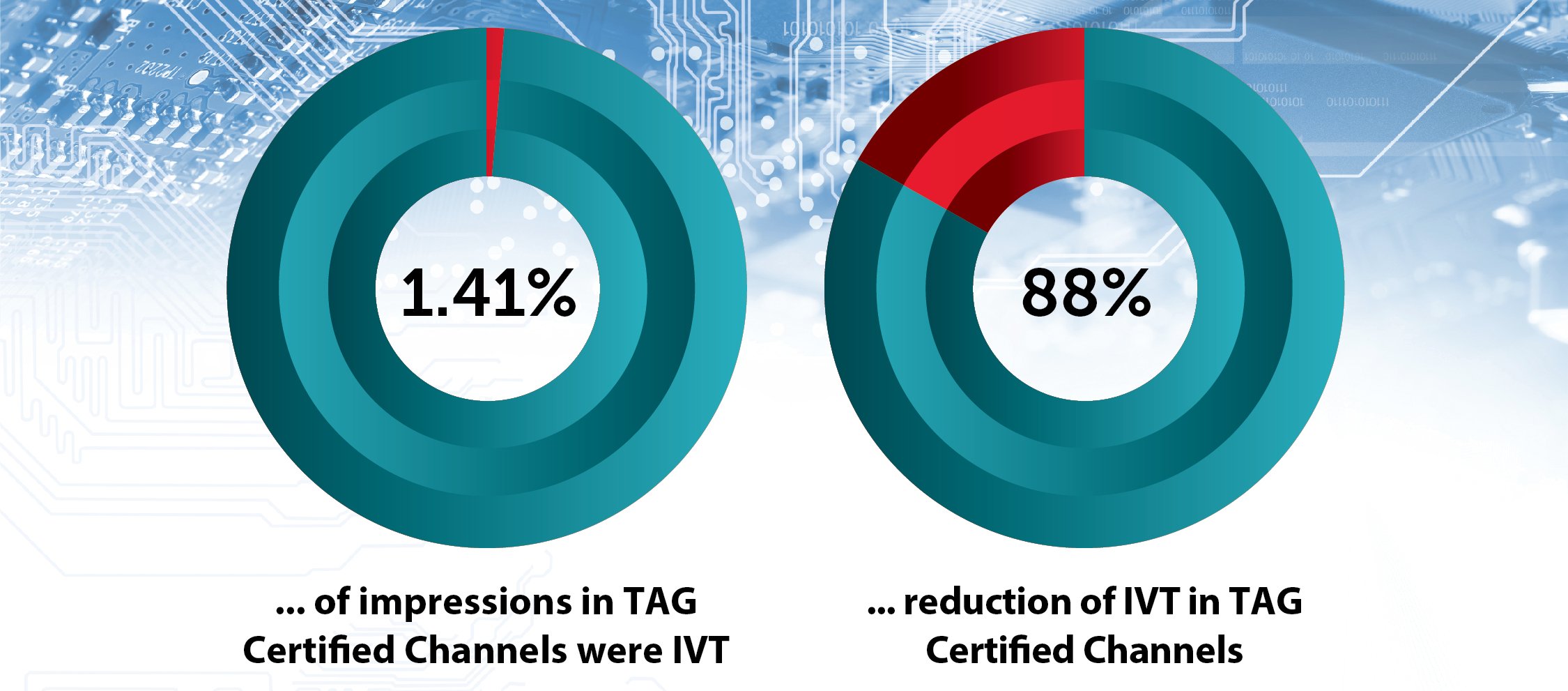 "When you win enough battles, you begin to turn the tide of the war," said Mike Zaneis, CEO of TAG. "We have now held fraud rates in TAG Certified Channels under two percent for three years in a row, and we also have dramatically improved the year-over-year fraud rates within those TAG Certified Channels, as more companies joined TAG's Certified Against Fraud Program and adopted its tough anti-fraud standards. We may never eliminate all fraud from the digital advertising ecosystem, but this data should give advertisers peace of mind that fraud will not have a significant impact on them if they use TAG Certified Channels."
As an additional element to the report, The 614 Group also interviewed executives with the participating agencies: Dentsu Aegis Network, Horizon Media, Interpublic Group (Kinesso), Omnicom Media Group (Annalect), Publicis Groupe, and WPP (GroupM) to learn more about their companies' perspectives on the complicated fight against fraud.
The full study and report can be found here. The results of the study were covered in an exclusive in MediaPost.


Joint White Paper by Ad Standards Orgs Calls for Broader Use of IDs
A new white paper released this week by five of the leading advertising standards organizations called for broader adoption of effective identification measures across the digital advertising supply chain. Released by the Brand Safety Institute (BSI) in coordination with TAG, Ad-ID, EIDR, and IAB Tech Lab, "Identification: It's as Easy as ABC" outlines the full scope of existing and planned identifiers for advertising assets, businesses, and consumers.
"Transparency is a critical foundation for brand safety, because you can't manage threats or protect your brand if you can't track your ads, identify the organizations in your supply chain, or tell if your ads are reaching real consumers or fraud bots," said Mike Zaneis. "TAG is proud of our efforts to extend transparency across the ad ecosystem through the TAG-ID, and we look forward to working with our peer organizations to provide a similar level of transparency around assets and consumers."
The white paper urged participants in the digital advertising supply chain to learn and adopt the three primary types of identifiers, as appropriate, including Asset IDs like those issued by Ad-ID and EIDR; Business IDs, such as the TAG-ID; and Consumer IDs, like those issued by DigiTrust.
TAG IN THE NEWS
From an op-ed by Jeff Maglio, Vice President/Global Demand, Sovrn in MediaPost:
Various protocols and specifications are being introduced across the industry to promote authenticity and transparency. Following the success of ads.txt, which identified authorized sellers of publisher inventory, the IAB Tech Lab introduced two new specifications to increase trust and transparency in the supply chain. These are Sellers.json, which allows buyers to verify direct sellers or intermediaries for a purchase opportunity, and the OpenRTB SupplyChain Object which enables buyers to see which parties are selling or reselling a bid request, ensuring they know who they are transacting with.
To make a real difference, these specifications must be incorporated into industry-wide standards, such as those established by the Trustworthy Accountability Group (TAG). There must be a standardized code of conduct that includes a fully auditable supply chain, explicit fee arrangements without hidden charges, clear auction rules with no biased mechanics, full disclosure of business arrangements such as kickbacks or rebates, and transparent change notification.
From the Smaato white paper "Why In-App Advertising Is the New Go-To" in The Drum:
Marketers can find out more about concerns around fraud to gain a better understanding of how to monetise new opportunities in this sector. Learn about in depth at initiatives such as The Trustworthy Accountability Group (TAG) which represents one of the most important advertising industry initiatives in the fight against criminal activity and improvement of transparency in the digital advertising supply chain.
From an op-ed by Tony Raval, CEO and Co-Founder of IDMERIT, in Forbes:
There's a wealth of advice for combatting fraud. But the most important advice I can give is to use a multidimensional approach and be an outright vocal advocate and participant of change. It will not get better unless we all understand that we are knowingly taking a hit to our bottom-line revenues.
The ANA/White Ops study also has some great takeaways that I feel need to be reiterated here [including:]
Be an outright vocal advocate and participant for change so your partners know your stance on fraud, and enforce it with strict penalties. Make sure that your antifraud policies are clear and respected by all parties. And as the report notes, "Every company across the ecosystem should register with TAG (the Trustworthy Accountability Group) to ensure they are doing business with trusted partners."
A PR Reminder from TAG
We love it when TAG members highlight our work together to fight digital ad crime and improve transparency. Please send any TAG-related press releases, blogs, or other announcements to Andrew Weinstein at andrewwstn@gmail.com for review before release.
Topics: Blog