TAG ANNOUNCES INAUGURAL GROUP OF COMPANIES TO EARN "CERTIFIED FOR TRANSPARENCY" SEAL
Earlier this month, TAG announced the first ten companies to earn the TAG "Certified for Transparency" Seal, marking a major milestone in the industry's efforts to improve transparency and give ad buyers and their partners increased visibility into the details of their digital advertising campaigns.
The initial group of industry leaders achieving the TAG Certified for Transparency Seal include Adform, DoubleVerify, Frameplay, Horizon Media, Integral Ad Science, Octillion, Omnicom Media Group, OpenX, Oracle Advertising, and Xandr.
"These companies stand at the vanguard of our industry's efforts to create a more transparent digital advertising supply chain," said TAG CEO Mike Zaneis. "They have established the baseline transparency practices that give ad buyers and their partners the visibility they need into their campaigns, including log-level data. By working together as an industry to adopt a shared transparency framework, we can improve accountability, reduce misplaced advertising, and save billions in misallocated spending."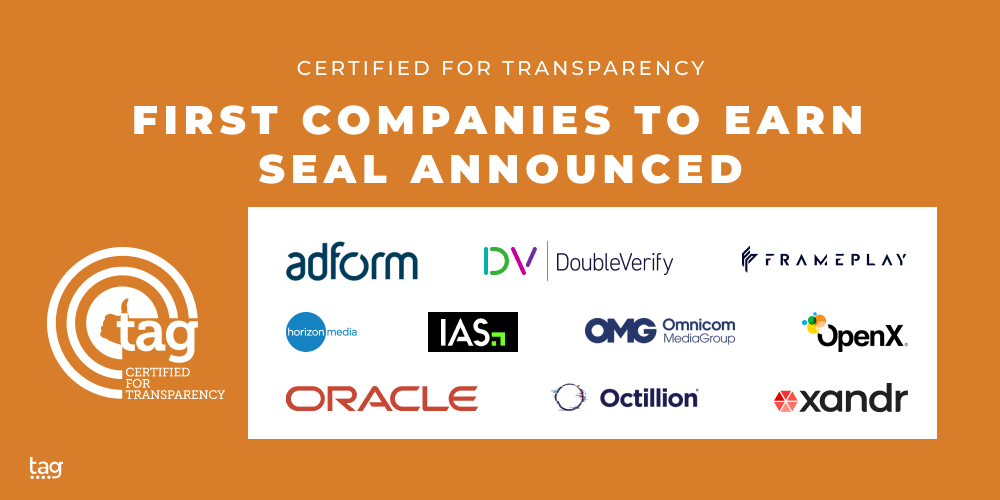 A landmark ANA study released in June found advertisers could drive up to $20 billion dollars in improved efficiencies by increasing transparency in their supply chains. The ANA's recommendations urged advertisers to create supply chain contracts that "provide complete access to data and full transparency of websites purchased" including access to "log-level data (LLD) from every AdTech vendor across an advertiser's supply chain," such as the framework established by TAG TrustNet.
Participation in a TAG-Recognized transparency utility" is a central requirement of the program. TAG TrustNet's common transparency framework is one such tool, creating a "shared truth" on campaign data for participants across the supply chain. Each trusted record for transactions is based on real-time reconciling and sharing advertising log files with counterparties through TAG TrustNet.
For more information about the TAG Certified for Transparency Seal, visit https://www.tagtoday.net/transparency.
TAG RELEASES THE LATEST VERSIONS OF ANTI-MALWARE AND ANTI-FRAUD GUIDELINES
TAG has now released the final updated versions of the Certified Against Fraud (CAF) (v9) and Certified Against Malware (CAM) (v5) guidelines. Enforcement of the new guidelines will begin in January 2024, but companies are encouraged to begin their review and compliance process as soon as possible.
"I cannot thank both the Anti-Fraud and Anti-Malware Working Groups enough for what they do on behalf of the TAG Community and the industry", said Bonnie Niederstrasser, Director of Policy for TAG and chair of both working groups. "The updates to CAF continue to fortify the program against adfraud, while also increasing transparency and disclosures by Intermediaries and Sellers. For CAM, the program now takes advantage of TAG's industry-first Malvertising Taxonomy, so that companies have a common lexicon when discussing and reporting these threats."
Highlights from the CAF Guidelines v9 include:
There are updated requirements for companies to disclose TAG-IDs across sellers.json and ads.txt. This also reflects ads.txt and sellers.json requirements within TAG's Certified for Transparency Guidelines.

All CAF-certified companies must now define and identify the internal resources responsible for the response of ad fraud events. Companies must also document the responsible external resource(s) responsible for the response of ad fraud events, depending on the Covered Party type that the company fulfills.

Any participating company identifying as an SSAI vendor (as defined in Section 4.11), who fires ad tracking requests from servers across SSAI environments, must employ specific VAST HTTP headers with their ad tracking requests.
Highlights from the CAM Guidelines v5 include:
TAG's Malvertising Taxonomy is now referenced in the Guidelines through malvertising definitions, as a tool for defining escalation processes, and for companies providing or employing malvertising detection and removal services.

There is updated clarification on disclosures to TAG of malvertising detection and removal services from ad tech companies. Among those, ad tech companies (e.g intermediaries) must disclose how they employ effective malvertising detection and removal services across their advertising assets and landing pages.
Anti-Malware Vendors are required to disclose to TAG the means by which their services comply with all four auditable core criteria.
For answers to common questions, please review the Anti-Fraud FAQ or Anti-Malware FAQ or contact info@tagtoday.net.
TAG TEAM MEMBER SPOTLIGHT: RYLAN DAWSON
Rylan Dawson, a rising third-year at the University of Virginia, will soon be completing an internship with the TAG Threat Intelligence Team, and he answered a few questions about his experience at TAG.
1) Can you share a little about your TAG internship?
At TAG, I have been shadowing the Threat Intelligence Team to assess how cybercriminals may leverage generative AI to augment their malvertising campaigns. I have found this work particularly pertinent and have enjoyed expanding my knowledge about artificial intelligence's current and future capabilities.
2) What stands out to you about the work that TAG does?
TAG's work stands out to me because they lead the globe at fighting criminal activity and increasing trust in the digital advertising industry. Cybercriminals' creation of bad ads is a low-cost exploit that can glean sensitive information at both the consumer and company level. Through TAG's deterrence of fraudulent traffic, sharing of threat intelligence, and promotion of brand safety, TAG protects at both the micro and macro level.
3) What fun facts about you would surprise your friends and colleagues?
I have a 1400 chess rating, I enjoy playing piano, and I produce music on software such as Logic and Audacity.
From "How About a Good Housekeeping Seal of Political Ad Approval" in MediaPost:
Following a similar pattern that created a cottage industry for brand-safety companies like DoubleVerify, IAS, and others, the emergence of "made for advertising" sites, AI-generated news sites, and -- how shall I say this -- less-than-transparent disinformation sites, the supply chain is already coming up with solutions, including one announced recently by NewsGuard, as well as one announced this week by TAG (Trustworthy Accountability Group) that utilizes an inclusive strategy reminiscent of Good Housekeeping's "seal of approval."
TAG's new "Certified for Transparency" Seal was actually unveiled last November, but this week TAG announced that ten companies have been certified to brandish it, including:
Adform

DoubleVerify

Frameplay

Horizon Media

Integral Ad Science

Octillion

Omnicom Media Group

OpenX

Oracle Advertising

Xandr
"These companies stand at the vanguard of our industry's efforts to create a more transparent digital advertising supply chain," TAG CEO Mike Zaneis said in a statement.
---
Leverage TAG Research into Your Everyday!
From APAC Fraud Snapshot reports, to UK Brand Safety Consumer reports, to Best Practices whitepapers, TAG's research is here to support our member's day-to-day compliance as well as strategic planning.
Visit our Data and Insight page 👉 tagtoday.net/insights


Let's Make Some Noise Together 🤝
We love it when TAG members highlight our work together to fight digital ad crime and improve transparency. Please send any TAG-related press releases, blogs, or other announcements to Andrew Weinstein at andrewwstn@gmail.com for review before release.
Topics: Blog