February 25, 2021
TAG Today - February 2021
TOP STORIES:
TAG EXPANDING ANTI-PIRACY REACH BY INTEGRATING STANDARDS INTO BRAND SAFETY PROGRAM
To take the fight against ad-supported piracy to the next level, TAG is currently working with companies throughout the TAG Community to merge its Certified Against Piracy (CAP) requirements into the Brand Safety Certified (BSC) program, thus streamlining the number of certifications required of companies while creating a global juggernaut of major companies implementing strong anti-piracy safeguards around the world.
TAG's anti-piracy efforts have always been focused on a single goal: Protecting brands from the damage caused by their ads appearing on those illegal sites. The TAG Certified Against Piracy Program was the first certification program launched by TAG in early 2015, and the program's strong framework of anti-piracy protections has been incredibly successful in helping advertisers and ad agencies avoid damage to their brands from ad placement on websites and apps that traffic in stolen intellectual property. However, adoption of the CAP Program has remained fairly low in comparison to other TAG certifications.
Given CAP's focus on brand protection, the launch of TAG's global Brand Safety Certified (BSC) Program last fall created a unique opportunity for the organization to extend the reach of its anti-piracy efforts by combining its two seal programs focused on around brand protection into a single effort under the BSC banner. In doing so, TAG will ensure an immediate 400% increase in the adoption of strong anti-piracy standards throughout the digital industry, and it will set us a path toward even broader global adoption of anti-piracy protections as part of a single, global, and fast-growing brand safety certification.
There has never been a better time to strengthen TAG's fight against ad-supported piracy, as consumers increasingly think of ad-supported piracy is primarily a brand safety issue. In a TAG/BSI Consumer Brand Safety Survey released last December, more than half of consumer respondents (54%) said advertisers should not run ads near pirated content, and the vast majority (83.1%) said they would reduce or stop their purchases of a product they regularly buy if an ad for that product appeared on a website that promoted piracy or other illegal activities.
In addition to its focus on fighting ad-supported piracy through setting high standards, TAG continues to work with key partners on highly successful "Follow the Money" campaigns. Working with Creative Future, TAG was able to reduce advertisements on pirate websites in the US by more than 90% in just two years, virtually eliminating pirate advertising by major brands on those sites. Building on that success, TAG partnered with WhiteBullet to launch Project Brand Integrity in 2020, focused on helping European markets achieve similar success.
Over coming weeks, we will continue working with TAG members in the Brand Safety Working Group to finalize new requirements – including anti-piracy provisions – for version 2.0 of the Brand Safety Certified Guidelines, and then with the TAG Community for final review and comment. We plan to release the final version of the BSC Guidelines v2 by early July, such that they would go into effect on January 1, 2022, in time for review as part of the 2022 recertification process.
By bringing these important efforts together through a responsive and rational consolidation, we believe we can reduce redundancy in our certification programs, improve the global reach and impact of our industry's anti-piracy efforts, strengthen our regional "Follow the Money" initiatives, and engage policymakers worldwide to partner on IP infringement issues.
IAB IRELAND REQUIRES TAG BRAND SAFETY CERTIFICATION TO ACHIEVE GOLD STANDARD
Earlier this month, IAB Ireland launched the Gold Standard, developed by IAB UK as a rigorous set of criteria for companies to improve brand safety, tackle ad fraud, improve the digital advertising experience, and assist in compliance with the GDPR and ePrivacy law.
As a core pillar of the requirements for the Gold Standard, all companies must achieve the TAG Brand Safety Certified Seal, demonstrating they are setting best practices to protect the safety of brand advertisers and their partners.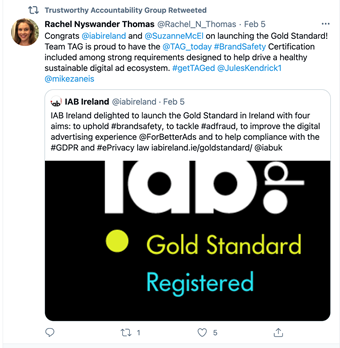 TAG IN THE NEWS
From "Flashtalking Acquires Protected Media To Bolster OTT Fraud Detection Services" in AdExchanger:
Last year, Protected Media uncovered an ad fraud scheme dubbed Hydra that stole millions from advertisers by impersonating app traffic. The company worked with Google and the Trustworthy Accountability Group to shut the scam down. But it's an ongoing process.
"At the end of the day, the takedowns of most of the attacks are not very useful, because you take down the attack but you don't take down the attackers – their organization is still there," [Protected CEO Asaf] Greiner said. "If you remove one of their methods, they'll return with a new one. What is important for us is not the specific takedown – it's providing the industry and the advertisers with tools to cooperate with one another and deal with the attacks as they materialize."
De "

TikTok le apuesta a la seguridad de su «

comunidad»" en

América Retail

:
TikTok ha anunciado que ha ampliado su Certificación de Seguridad de Marca TAG (Trustworthy Accountability Group) a Norteamérica, Europa, Australia y Nueva Zelanda. Este programa reconoce a TikTok por establecer rigurosos estándares de seguridad para proteger a la comunidad, proporcionar protección de marca y garantizar la transparencia en sus prácticas. Este último hito se produce después de que TikTok recibiera en septiembre el Certificado de Seguridad de Marca TAG para Reino Unido. …
Por su parte, Mike Zaneis, CEO de TAG, comenta: «La publicidad digital tiene un alcance que supera los océanos y las fronteras, por lo que nos complace reconocer a TikTok por haber tomado las medidas necesarias para extender su estatus de TAG Brand Safety Certified a los principales mercados del mundo. Al adoptar las mejores prácticas de la industria para proteger a sus socios y a su cadena de suministro de posibles amenazas a la seguridad de la marca, TikTok está demostrando el fuerte compromiso de la plataforma con la seguridad de su creciente comunidad y de las marcas que se encuentran en ella. Esperamos seguir trabajando con TikTok para elevar el listón para otras empresas de publicidad digital».
A PR Reminder from TAG




We love it when TAG members highlight our work together to fight digital ad crime and improve transparency. Please send any TAG-related press releases, blogs, or other announcements to Andrew Weinstein at

andrewwstn@gmail.com

for review before release.
Topics: Blog