TOP STORIES:
Happy holidays from all of us at TAG! We look forward to continuing our successful and collaborative work together in 2019!
New TAG/BSI White Paper Shows Positive ROI for Brand Safety Investments
Last week, TAG and the newly-launched Brand Safety Institute (BSI) released the second in a series of joint white papers on brand safety issues, "Defining Brand Safety: Execution Challenges."
The white paper found that investment in brand safety initiatives resulted in a positive ROI for some marketers who tracked that cost, while brands' increased focus on brand safety strategy enabled greater, more transparent collaboration with their agency partners. The paper was also the first to quantify brand safety investment, finding that large agency holding companies are currently spending between $3-7 million annually on fixed-cost brand safety expenses.
"By talking to the people on the front lines of brand safety, this white paper helps identify the opportunities and challenges we face as an industry," said Mike Zaneis, CEO of TAG and Co-Founder of BSI. "The most important takeaway was the importance of making brand safety a strategic imperative in every organization and investing the necessary resources for success. When companies elevate brand safety as a priority, they can reduce risk, improve coordination, and strengthen ROI across their marketing programs."
BSI also named two dozen industry leaders as founding members of the BSI Editorial Board, which will help design the brand safety curriculum for BSI's accreditation program for corporate executives. BSI's new editorial board will be chaired by Rachel Nyswander Thomas, TAG's SVP of Operations and Public Policy, and it includes senior executives from many of TAG's member companies, partners, and founding organizations, including the 4A's, Adobe, BPA Worldwide, Facebook, IAB, IPG Mediabrands, GroupM, Horizon Media, OpenX, Oracle Data Cloud, JICWEBS, MediaMath, Pandora, and Publishers Clearing House.
TAG Honors First Five Companies to Achieve "Platinum" Status of All Four TAG Certifications
In the fight against criminal activity in advertising, our industry knows that we must stop every attack and plug every crack in the ad tech ecosystem. Five companies have taken an equally comprehensive approach in their internal systems by undergoing the rigorous application and review process needed to receive all four of TAG's available seals.
Those companies – dataxu, LKQD Technologies, OpenX, SpotX, Sovrn – are the first leaders to achieve TAG Platinum status by being TAG Certified Against Fraud, TAG Certified Against Piracy, TAG Certified Against Malware, and compliant with TAG's Inventory Quality Guidelines.
"Not only is platinum the heaviest of the precious metals, it is also impervious to corrosion, so we felt that TAG Platinum was an appropriate designation for those companies that have taken all of the steps necessary to ensure that their digital advertising operations are impervious to the corroding effects of fraud, malware, piracy, and lack of transparency," said Mike Zaneis, CEO of TAG. "Platinum status is TAG's highest accomplishment, and we are delighted and proud to recognize the first five companies to achieve that status. We look forward to honoring more TAG Platinum companies over coming months as they also achieve that elite designation."
New BPA Ad Campaign Encourages TAG Certification
Are you seeing the TAG logo pop up more frequently in ads on the sites you visit? If so, it might be thanks to TAG Validator BPA Worldwide, which launched a broad advertising campaign promoting its iCompli services this fall.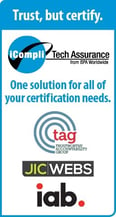 TAG IN THE NEWS
From a guest post by James Livermore, Ad Colony's Country Manager for Australia and New Zealand, in B&T Magazine:
This one is a no-brainer. The Trustworthy Accountability Group (TAG) is by far the best cross-industry accountability program, and last year the IAB required all members to register with them. Additionally, TAG has begun the ads.txt anti-fraud initiative, which will prevent you from getting unauthorized inventory in your programmatic buy on desktop and mobile web. Sounds good, right? So make sure whoever you work with is TAG-certified.
From an op-ed by Nico Neumann, Assistant Professor, Melbourne Business School, in AdExchanger:
Two weeks ago, a multimillion dollar ad fraud scheme was publicly revealed and eight people were charged by the FBI for operating the botnet 3ve. This news should be an important wake-up call for everyone in ad land that the battle against ad fraud is not over yet. …
After some reports that ad fraud seemed to decline or stagnate, many people may have felt a false sense of security. Indeed, we have made some good progress. Industrywide initiatives, such as certifications by the Trustworthy Accountability Group or the introduction of Ads.txt, have increased the barrier for some fraudulent practices. And nearly every agency and tech provider now has some ad fraud solution in place.
From an op-ed by Rhajiv Bhat, Senior Vice President of Data Sciences and Marketplace, InMobi, in SmartBrief:
In order to outsmart fraudsters and put an end to ad fraud, publishers, advertisers and third-party measurement tools and agencies must work together. Collaboration is key in ending ad fraud, and some actionable tactics advertising industry players can employ include leveraging third-party partnerships, using solutions with artificial intelligence and machine learning, as well as working with industry groups to champion best practices. …
In addition to verification and measurement partners, ad tech companies can align with credible industry groups such as the Trustworthy Accountability Group and the Interactive Advertising Bureau to actively work to improve standards across the board. In particular, TAG, a consortium of industry groups committed to fighting ad fraud and promoting transparency in the digital advertising supply chain, found that certified channels had 83% less fraud versus noncertified ones.
From TAG CEO Mike Zaneis in an interview with E-Commerce Times on 3ve:
"Well-funded and organized criminal rings are doing this," said Mike Zaneis, CEO of the Washington, D.C.-based Trustworthy Accountability Group, or TAG, which operates a digital advertising certification program.
"It's not some individual in their basement -- they are very sophisticated," he told the E-Commerce Times.
"Years ago, these attacks were easy to identify," Zaneis continued. "Now criminals are very studious about studying human behavior and having their bots act like humans online."
A PR Reminder from TAG
We love it when TAG members highlight our work together to fight digital ad crime and improve transparency. Please send any TAG-related press releases, blogs, or other announcements to Andrew Weinstein at andrewwstn@gmail.com for review before release.