TOP STORIES:

New TAG/BSI Survey Shows Major Financial Risk from Brand Safety Failure
TAG Member Spotlight: Confiant
TAG IN THE NEWS
New TAG/BSI Survey Shows Major Financial Risk from Brand Safety Failure
A new survey of US consumers released by TAG and the Brand Safety Institute this month highlighted the significant financial risk to brands from a potential brand safety crisis involving their advertising.
Conducted among 1,017 respondents via SurveyMonkey, the survey found more than 80 percent of consumers said they would reduce or stop buying a product they regularly purchase if it advertised in a range of hypothetical situations involving extreme or dangerous content.
The survey also discovered that consumers defined brand safety broadly, including not only ad adjacency but also core TAG priorities such as ad-supported piracy and ad-related malware. More than half of respondents said that advertisers should prevent their ads from running near stolen/pirated movies or TV shows (53 percent) and unsafe or hacked websites (73 percent).
Commenting on the results, TAG CEO Mike Zaneis said, "This survey drives home the real and measurable risk to a company's bottom line from a preventable brand safety crisis. While reputational harm can be hard to measure, consumers said that they plan to vote with their wallets if brands fail to take the necessary steps to protect their supply chain from risks such as hate speech, malware, and piracy."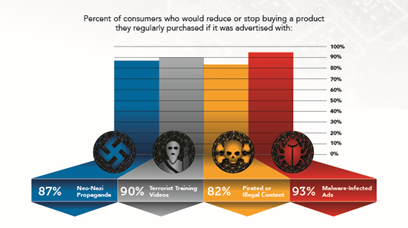 Highlighting the importance of TAG programs in protecting brand safety, survey respondents also said they would reduce or stop buying a product they regularly use if it advertised around pirated content or infected them with malware.
Specifically, 82 percent would reduce their spending on a product and 45 percent would stop buying it altogether if it advertised around illegal activities like stolen videos or other content, while 93 percent would reduce their spending on the product, and 73 percent would stop buying it altogether, if the ad infected their computer or device with malware.
TAG programs designed to address those issues and ensure marketers protect their brands and their advertising include the guidelines established for the TAG Certified Against Malware Seal and the TAG Certified Against Piracy Seal.
The survey results received broad media coverage across the industry, including twostories in MediaPost and additional articles in The Drum, Marketing Land, Adweek, WARC, Marketing Week, Mobile Marketing Magazine, Torrent Freak, Advanced Television, Business of Apps, PPC Land, World Intellectual Property Review, and MarTechSeries.
TAG Member Spotlight: Confiant Data Shows Industry Progress in Fighting Malware
Earlier this month, Confiant released its 2019 second quarter Demand Quality Reportaround ad quality, trends, and benchmarks for publishers. Included in the report were key data showing the progress being made in the industry's fight against malware. As the report noted:
"In Q2, we saw notable declines in the rates of Malicious and In-Banner Video ads. In-Banner Video ads plummeted to 0.10% of impressions in Q2, down from 0.45% in Q1 and a high of 1.40% in Q2 2018, reaching the lowest rate we have ever recorded in our Demand Quality Reports.
"Similarly, Malicious ads fell from 0.39% of impressions in Q1 (and a high of 0.54% in Q4 2018) to 0.25% in Q2, also the lowest rate we have ever recorded in our reports.
"Given the highly dynamic nature of online advertising, it is difficult to assign a single explanation to the declines, but the trend suggests a confluence of industry-wide factors may have changed the game for malvertisers.
The near-universal adoption of ads.txt on top sites, which is driving arbitrage and unauthorized resale out of the market and foreclosing IBV opportunities.
Increased vigilance on the part of the SSPs when it comes to ad quality issues given the highly competitive, and increasingly commoditized, nature of the space.
Increased adoption of creative-verification solutions like Confiant's is boosting the industry's defenses.
Industry initiatives like TAG's Certified Against Malware program, which have increased general awareness around the threat of malware and galvanized efforts to combat it.
Better coordination between publishers and platforms, which narrows the brief window of time that malvertisers have before their exploits are detected and removed."
Thanks to Confiant and all of TAG's member companies for helping drive this remarkable success in fighting malware across the digital ad ecosystem.
From "Taking Steps to Crack Down on Criminal Activity in Digital Advertising" by Nick Stringer, TAG's VP of Global Engagement and Operations in New Digital Age:
Fighting fraud in digital advertising is a global challenge, which is why a consistent and scalable approach across markets is required to tackle it effectively. Many advertisers, such as Proctor & Gamble, are now mandating in their ad buying requirements that partners adhere to the TAG Certified Against Fraud Guidelines.
TAG believes in a 'Global Standards for Local Markets' approach, which involves tackling issues such as ad fraud by recognising national differences, such as market developments, cultures and political environments, but also by ensuring a consistent approach across markets.
TAG's partnership with JICWEBS in the UK is an example of how well this approach is working in reality. For example, by unifying aligning standards to tackle criminal activity across markets under one anti-fraud certification, TAG and JICWEBS have given companies a clear path to implement one global anti-fraud standard wherever they operate across the world.
From "How to Ensure Transparency in Digital Advertising" by Nicolas Bidon, Global CEO of Xaxis, in Adweek:
There has been progress. In programmatic, brand marketers are shifting budgets to more reputable publishers and using contracts that demand proof that ads have appeared as promised. They pay for only verified, viewable delivery in reputable brand-safe environments.
Standards, too, have advanced. The ANA last year updated guidelines and better aligned with the IAB's definition of programmatic. Six major advertising exchanges signed a letter from the Trustworthy Accountability Group (TAG) promising to make programmatic buying and selling more efficient, transparent and fair.
From "Five Proven Methods to Fight Mobile Ad Fraud" by James Haslam, Senior Content Manager at Adjust, in Mobile Marketing:
Combat bot ad fraud with dedicated tools and industry accreditation
Click bots are another malicious bug that can badly skew statistics for brands' marketing campaigns. Bots imitate human users, performing actions to trick advertisers into thinking ads have been accessed by many more people than is accurate. Bots can manipulate traffic in multiple ways; they're especially damaging when riding on the back of a fraudulent app downloaded by a user.
Marketers would do well to adopt a proactive approach of vigilance against this type of ad fraud. Implement dedicated bot fraud prevention tools, and get accreditation and advice from groups like the Trustworthy Accountability Group (TAG) and the Bot Fraud Prevention Council. Studies have shown that accredited firms' ad fraud rates sink way down to just 0.53 per cent, from the industry average of about 9 per cent.
Get the latest on data transparency and accountability. Register Now for Tech Lab's Data Responsibility Innovation Day on September 19th in San Francisco.
TAG Members use code "TAGTODAY" to save $200 off your ticket price.
A PR Reminder from TAG
We love it when TAG members highlight our work together to fight digital ad crime and improve transparency. Please send any TAG-related press releases, blogs, or other announcements to Andrew Weinstein at andrewwstn@gmail.com for review before release.
Topics: Blog